Fiction & Literature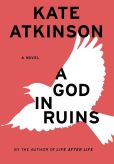 Hardcover
Kate Atkinson is back with
A God in Ruins
, a stunning companion volumel to
Life After Life
, this time following Ursula's brother Teddy, an R.A.F. pilot who, to his surprise, has survived the war, and now must figure out how to live. Other highlights of May are Chuck Palahniuk's collected stories, a new caper from Matthew Pearl and Kent Haruf's spare but eloquent new novel
Our Souls at Night
.
Read more in our blog
.
From the author of To Kill a Mockingbird
Read More
Long thought to have vanished,
Go Set a Watchman,
Harper Lee's second novel, written in the 1950s, has recently resurfaced. Set about 20 years after
To Kill a Mockingbird
, the novel features many of the same beloved characters.
Read More in our Blog
Looking for your next great book?
Browse our exciting new collection of novels and short stories you won't want to miss.