Health & Wellness

Kick Off the New Year Right
Books, Gifts, DVDs, and More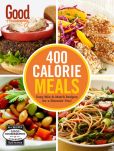 Hardcover
Get the
Good Housekeeping 400 Calorie Meals Cookbook
for only $9.99 with the purchase of any item* ($19.95 list price). Just add the cookbook plus one other item to your shopping bag, and your discount will be reflected at checkout.
*Offer excludes used books and NOOK books. See
Offer Details
for complete rules.
More New Books for Healthy Eating...