James Patterson

The force behind countless stand-alone thrillers as well as eight major bestselling series, the former Madison Avenue executive set himself a modest goal: to become the 'king of the page-turner.' He succeeded.
Introducing the New Michael Bennett Novel
Shop Now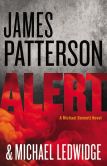 "This is not a test" -- Every New Yorker's worst nightmare is just about to become a reality in James Patterson's latest Michael Bennett novel. After two inexplicable high-tech attacks, the city that never sleeps is on edge. Detective Michael Bennett -- and his old pal, the FBI's Emily Parker -- have been tasked with catching the criminals who claim responsibility. But they're as elusive as they are dangerous. Soon he's racing against the clock -- and against the most destructive enemy he's faced yet -- to save his beloved city.
James Patterson Series for Adults
James Patterson Series for Kids & Teens
Take advantage of our free digital previews of forthcoming James Patterson books while you wait for the next installment of your favorite series. (
Click here to download our NOOK app
.)