NOOK Books: Ages 9-12
Sky Raiders: New from Fantasy Author Brandon Mull!
See More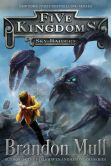 NOOK Book (eBook)
Master of fantasy and action adventure, Brandon Mull is back with a new series,
Five Kingdoms
! In
Sky Raiders,
monsters, magic, and surprises are the rule of the day. Sixth-grader Cole was kidnapped through a portal with his friends into another world, but luckily he's able to escape -- but he knows he has to go back for them...
More by Brandon Mull

NOOK Book (eBook)

NOOK Book (eBook)

NOOK Book (eBook)
Favorite Series and Authors
Featured NOOK Book: The Complete Harry Potter Series