NOOK Books: Ages 9-12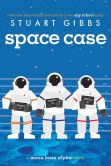 NOOK Book (eBook)
Dash Gibson was told that living on the moon would be unbelievably exciting. Instead, he finds himself hoping that something, anything, will lift his boredom. And when it does, it's major: MURDER! Stuart Gibbs concocts a very funny and suspenseful space mystery.
More by Stuart Gibbs

NOOK Book (eBook)

NOOK Book (eBook)

NOOK Book (eBook)
Featured NOOK Book: The Julian Chapter
The Julian Chapter finally reveals the bully's side of the story first discovered in bestseller Wonder. Why is Julian so unkind to Auggie? And does he have a chance for redemption?
Favorite Series and Authors