NOOK Books: Ages 9-12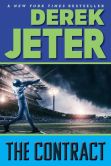 NOOK Book (eBook)
When young Derek Jeter is chosen for the Little League Tigers, he hopes to play shortstop but he starts at second base. Still, he tries his best and to help him stay focused on school, his parents make him a contract: keep up the grades or no baseball. Derek makes sure he always plays his best game -- on and off the baseball field!
More for Sports Fans

NOOK Book (eBook)

NOOK Book (eBook)

NOOK Book (eBook)
Featured NOOK Book: The Julian Chapter
The Julian Chapter finally reveals the bully's side of the story first discovered in bestseller Wonder. Why is Julian so unkind to Auggie? And does he have a chance for redemption?
Favorite Series and Authors