Kids' Books: Ages 3-5

Hardcover
This deluxe box features a story about Olaf the snowman and a huggable Olaf plush. Following the hide-and-seek theme of the story, parents can hide the plush for children to find and deliver Olaf's big, warm hug!

Hardcover
For a limited time,
I Love You Night and Day
is available for $7.99 (List Price $16.99) with the purchase of any Kids' book.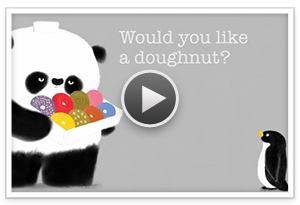 Watch the trailer
Please, Mr. Panda
is the first selection in a new monthly promotion featuring our picture book recommendations. What do you get when a panda with a box of doughnuts meets animals hungry for a snack? A book about manners, of course! Mr. Panda asks them if they would like a doughnut. In each interaction, Panda changes his mind and withdraws his offer, until finally, a polite lemur utters the magic word.
Favorite Series and Authors
Shop by Featured Subjects