Back to School: Pre-K - Grade 3

It's Elementary!
Keep kids engaged and make reading fun. Send them back to school with our collection of workbooks, kids' books, educational games, and school supplies for everyday needs.*
Get ahead of the class with fun and functional essentials for everyday activities. From writing & drawing to organization, find journals, sketchbooks, bookmarks, and more, made exclusively for Barnes & Noble.

BN.com price $4.95

BN.com price $9.95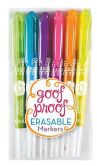 BN.com price $6.95
*Note: Not all products are suitable for all ages, please review individual product pages for details about each product.