New for Kids
Shop the latest book in the Magic Tree House series, James Patterson's Middle School: Save Rafe!, and more.
Coming Soon for Kids - Pre-Order Now
See All
Disney's Frozen: Books Inspired by the Movie
See More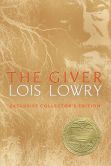 Hardcover
This edition of Lois Lowry's classic dystopian novel features a Q&A with the author, her reflection on the creation of
The Giver Quartet
, and a striking gold-foil jacket. A film adaptation of the book arrives in theaters this summer.
See More in the Giver Quartet

Paperback

Mass Market Paperback

Hardcover

Shop by Featured Subjects