Kids' Books: Ages 9-12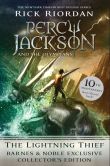 Hardcover
This collector's edition of
The Lightning Thief
is exclusive to Barnes & Noble customers and includes extra content from both the author, Rick Riordan, and illustrator, John Rocco, as well as a specially designed jacket and endpapers.
Hardcover
Tales from a Not-So-Dorky Drama Queen features more adventures with Nikki and her friends Chloe, Zoey, and Brandon! Our B&N Exclusive Collector's Edition includes a poster and Nikki's class schedule.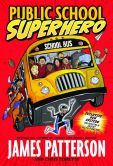 Hardcover
In his mind, Kenny Wright is a super-powered defender of the weak. In reality, he's a target for bullies. Can he recognize his true strength before peer pressure forces him to make the worst decision of his life? Our B&N Exclusive Edition includes a reversible jacket that doubles as a poster!
More James Patterson for Young Readers
Favorite Series and Authors
Shop Books by Featured Subjects