Dan Brown

With
The Da Vinci Code
, Dan Brown created not just a phenomenal bestseller but a phenomenon -- opening the door to a dark world of religious intrigue where the ancient and modern collide.
Now in Paperback ...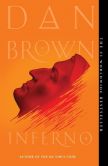 Dan Brown's first novel in four years, the eagerly anticipated thriller Inferno plunges symbologist Robert Langdon into a new mystery -- one that, as in his international bestseller The Da Vinci Code, takes readers deep into "a landscape of codes, symbols, and more than a few secret passageways," says Brown.

Inferno reanimates Dante's enduring masterpiece for a new audience. Prepare to be mesmerized as Langdon faces off against a chilling adversary, grapples with an ingenious riddle, and races to find answers before the world is irrevocably altered.


If You Like Dan Brown, You May Also Like ...