Expert Tutorials for Quick, Painless Mastery
Learn by Video products provide an interactive learning experience for everything from how to build a data-driven website to how to produce polished-looking videos.

All packages include video tutorials, complete with lesson files, assessment quizzes, and review materials. The video is wrapped in a unique interface that allows the viewer to jump to any topic and also to bookmark individual sections for later review. A unique watch-and-work mode shrinks the video into a small window to allow the student to work alongside.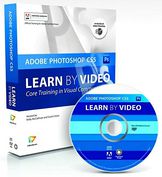 $59.99 List Price
$47.54 Online Price
(You Save 20%)
Add To List

uiAction=GetAllLists&page=List&pageType=list&ean=9780321719805&productCode=BK&maxCount=100&threshold=3
Add To List

uiAction=GetAllLists&page=List&pageType=list&ean=9780321719812&productCode=BK&maxCount=100&threshold=3
Add To List

uiAction=GetAllLists&page=List&pageType=list&ean=9780321700940&productCode=BK&maxCount=100&threshold=3
$34.99 List Price
$31.49 Online Price
(You Save 10%)
Add To List

uiAction=GetAllLists&page=List&pageType=list&ean=9780321786906&productCode=BK&maxCount=100&threshold=3

$34.99 List Price
$31.49 Online Price
(You Save 10%)
Add To List

uiAction=GetAllLists&page=List&pageType=list&ean=9780321786883&productCode=BK&maxCount=100&threshold=3

$34.99 List Price
$28.66 Online Price
(You Save 18%)
Add To List

uiAction=GetAllLists&page=List&pageType=list&ean=9780321786937&productCode=BK&maxCount=100&threshold=3

$39.99 List Price
$35.99 Online Price
(You Save 10%)
Add To List

uiAction=GetAllLists&page=List&pageType=list&ean=9780321786838&productCode=BK&maxCount=100&threshold=3

$34.99 List Price
$31.49 Online Price
(You Save 10%)
Add To List

uiAction=GetAllLists&page=List&pageType=list&ean=9780321786845&productCode=BK&maxCount=100&threshold=3

$34.99 List Price
$31.49 Online Price
(You Save 10%)
Add To List

uiAction=GetAllLists&page=List&pageType=list&ean=9780321786852&productCode=BK&maxCount=100&threshold=3

$34.99 List Price
$31.49 Online Price
(You Save 10%)
Add To List

uiAction=GetAllLists&page=List&pageType=list&ean=9780321804617&productCode=BK&maxCount=100&threshold=3

$34.99 List Price
$31.49 Online Price
(You Save 10%)
Add To List

uiAction=GetAllLists&page=List&pageType=list&ean=9780321786814&productCode=BK&maxCount=100&threshold=3