Dr. Seuss

Cat in the Hat, Horton, the Grinch & More
Welcome to Dr. Seuss Central, the place for classic books, beloved characters, and more Seuss-ical fun!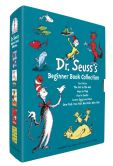 Hardcover
Dr. Seuss's Beginner Books help children master reading skills with jubilant wordplay and simple sentences.
Lessons About Dinos, Climate, and More
Teach kids about dinosaurs, the weather, and other fascinating subjects with Dr. Seuss Learning Library books, featuring the witty Cat in the Hat.
Seussational Apps, Games, and More!