Dr. Seuss

Shop Pat the Bunny for $4.99 (List Price $9.99)
Here is How:
Add Pat the Bunny to your shopping bag.
Add 2 or more eligible books you would like to purchase to your shopping bag.
Proceed to Checkout. Your discount will be reflected in your total.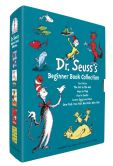 Hardcover
Dr. Seuss's Beginner Books help children master reading skills with jubilant wordplay and simple sentences.
Lessons About Dinos, Climate, and More
Teach kids about dinosaurs, the weather, and other fascinating subjects with Dr. Seuss Learning Library books, featuring the witty Cat in the Hat.
Seussational Apps, Games, and More!