.

Enjoy millions of books with our top-rated reading app - optimized for iPad's Retina display.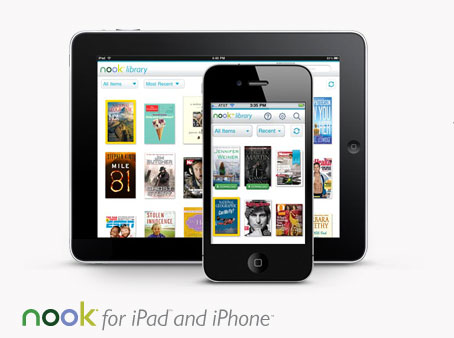 Read everywhere & sync your last page, bookmarks & notes with your other devices.
Why You'll Love It
Choose from over 3 million books, magazines, & newspapers optimized for your iPad, iPhone or iPod touch*
Sample NOOK Books FREE - new releases, bestsellers & classics - and try top newsstand titles FREE for 14 days
Automatically sync your last page and bookmarks to other devices
Recent Updates
Version:
3.4.1
Updated:
April 25, 2013
Required System:
Compatible with iPhone 3GS, 4/4S/5, iPod touch (3rd gen & above) & iPad/iPad mini. Requires iOS 4.3 or later
What's New:
NOOK Comics™ w/ Zoom View
What's New:
NOOK Comics™ w/ Zoom View
Enlarge illustrations
Better newspaper/magazine organization
Supports HD magazines on iPad (3rd Generation & above)
PDF Reader enhancements
Bug fixes




Quickly browse all the items in your library.

Easily page through your favorite magazines & more with our helpful browsing tool.

Download books, magazines & newspapers from your NOOK Library right in the app.

Create custom iPad themes with colored text, links, pages & highlights.

Use the built-in dictionary to look up words without leaving the page.

Download NOOK Books & organize your library with the tap of a finger.

Adjust the fonts, sizes, margins & spacing for a custom reading experience.

Add notes, bookmarks & highlights as you go.

View magazines & newspapers on the go with our exclusive ArticleView™.

Enjoy interactive, customizable versions of your favorite magazines & newspapers.



*NOOK Magazines and Newspapers are only viewable on iPad, iPhone 4/4S or iPod touch 4th generation.