.
Spotlight
A Featured Author at an Irresistible Price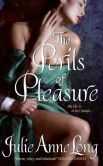 The Perils of Pleasure (Pennyroyal Green Series #1)
NOOK Book (eBook)
The handsome rogue Colin Eversea is set to hang for a crime he didn't commit, that is until he is captured by the daring Madeleine Geenway. When it becomes clear that whoever wants Colin alive wants Madeline dead, the two become uneasy allies in a deadly race for truth. Together they'll face great danger—and a passion neither can resist.
Coming Soon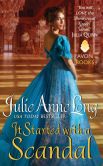 Lord Philippe Lavay has found himself in need of a housekeeper.Elise Fountain has found herself in need of a job. The bold and gentle Elise sees past his battered body into Philippe's barricaded heart . . . and her innate sensuality ignites his blood. Now a man who thought he could never love and a woman who thought she would never again trust must fight an incendiary passion that could be the ruin of them both.