.
Spotlight
A Featured Author at an Irresistible Price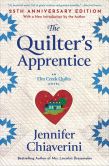 The Quilter's Apprentice (Elm Creek Quilts Series #1)
NOOK Book (eBook)
Master quilter Sylvia Compson shares the secrets of her creative gifts with her young assistant, Sarah McClure. During their lessons, the intricate, varied threads of Sylvia's life begin to emerge. It is the story of a young wife living through the hardships and agonies of the World War II home front; of a family torn apart by jealously and betrayal; of misunderstanding, loss, and a tragedy that can never be undone.
The Latest in the Series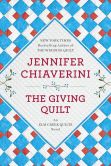 The Giving Quilt (Elm Creek Quilts Series #20)
At Elm Creek Manor, the week after Thanksgiving is "Quiltsgiving," a time to commence a season of generosity. From near and far, quilters and aspiring quilters—a librarian, a teacher, a college student, and a quilt-shop clerk among them—gather for a special winter session of quilt camp, to make quilts for Project Linus, a charitable organization dedicated to providing handmade quilts and blankets to children in need.