The Wizard of Oz

Order The 75th Anniversary Edition Today
Somewhere Over the Rainbow
Celebrate the 75th anniversary of one of the most beloved films of all time. The Wizard of Oz is now available with new special features and bonus materials.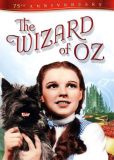 List price $16.99
BN.com price $11.50

List price $19.99
BN.com price $13.99

List price $35.99
BN.com price $21.59

William Stillman, Jay Scarfone
Written by the foremost authorities on the subject—Jay Scarfone and William Stillman—and designed in close collaboration with Warner Bros., The Wizard of Oz: The Official 75th Anniversary Companion delivers an entertaining and interactive experience, transporting readers over the rainbow and into the wonderful Land of Oz.