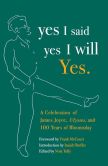 June 16: 2014:  Today's NOOK Daily Find offer is YES I SAID YES I WILL YES — a tribute to Bloomsday — for just $2.99.
Overview
Happy Bloomsday! Named for the protagonist (Leopold Bloom) in James Joyce's most well known work Ulysses, fans celebrate the acclaimed novelist and his work every year on this day — as the events of his epic novel took place on June 26, 1904. With celebrations taking place all over the world today (and since 1954) you can take part as well with today's special NOOK Daily Find!
This special price is valid for today only
 — stay tuned for tomorrow's 
NOOK Daily Find
.