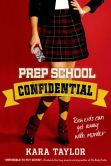 July 16, 2014:  Today's NOOK Daily Find offer is PREP SCHOOL CONFIDENTIAL — an abundance of scandals and lies will make it difficult to put down this page-turner — for just $2.99.
Overview
Anne Dowling practically runs her exclusive academy on New York's Upper East Side — that is, until she accidentally burns part of it down and gets sent to a prestigious boarding school outside of Boston. Determined to make it back to New York, Anne could care less about making friends at the preppy Wheatley School. That is, until her roommate, Isabella's body is found in the woods behind the school. When everyone else is oddly silent, Anne becomes determined to uncover the truth no matter how many rules she has to break to do it. With the help of Isabella's twin brother Anthony, and a cute classmate named Brent, Anne discovers that Isabella wasn't quite the innocent nerdy girl she pretended to be. But someone will do anything to stop Anne's snooping in this fast-paced, unputdownable read—even if it means framing her for Isabella's murder.
Kara Taylor's breathtaking debut reads like Gossip Girl crossed with Twin Peaks in an enveloping start to the Prep School Confidential series.
"This book rocks! Scandalously delicious in the same vein as Pretty Little Liars and Revenge, with a wickedly clever plot that kept me guessing right up until the end." — Gemma Halliday, New York Times bestselling author of Honeymoon in High Heels
"A whirlwind of secrets, lies, and scandals. I whipped through the pages, frantic to discover the killer." –Jill Hathaway, author of Slide
"Fast-paced, suspenseful and scarily believable. It will keep you guessing as you race to the end!" — Daisy Whitney, author of The Mockingbirds and When You Were Here
This special price is valid for today only
 – stay tuned for tomorrow's 
NOOK Daily Find
.