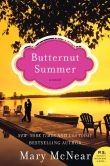 August 13, 2014:  Today's NOOK Daily Find offer is BUTTERNUT SUMMER — the 2nd book in the Butternut Lake Trilogy series — is a charming tale of young love and the meaning of family for just $1.99.
Overview
Every summer on Butternut Lake the tourists arrive, the shops open, and the waves lap its tree-lined shores, just as they have for years. But this season everything changes for one mother and daughter who've always called the lake home…
Caroline's life is turned upside down the moment her ex-husband, Jack, strides through the door of her coffee shop. He seems changed — stronger, steadier, and determined to make amends with Caroline and their daughter, Daisy. Is he really different, or is he the same irresistibly charming but irresponsible man he was when he left Butternut Lake eighteen years ago? Caroline, whose life is stuck on pause as her finances are going down the tubes, is tempted to let him back into her life — but would it be wise?
For Caroline's daughter, Daisy, the summer is filled with surprises. Home from college, she's reunited with the father she adores — but hardly knows — and swept away by her first true love. But Will isn't what her mother wants for her — all Caroline can see is that he's the kind of sexy "bad boy" Daisy should stay away from.
As the long, lazy days of summer pass, Daisy and Caroline come to realize that even if Butternut Lake doesn't change, life does.
New York Journal of Books
"Engaging and true to life, Butternut Summer offers a story not limited just to a beach read."
RT Book Reviews (4 Stars)
"This novel is destined to please all readers. Daisy's young-love story will take readers back to their own romantic summers past, while those with tumultuouis romantic histories will empathize with Caroline's situation. McNear's latest is the perfect getaway for those craving a fun escape."
Booklist
"Butternut Summer is a thoughtful examination of the pleasure and pain of love and the strength of the family bond and will leave fans eagerly awaiting the triptych's final installment."
This special price is valid for today only – stay tuned for tomorrow's NOOK Daily Find.