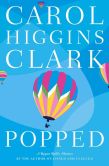 August 2, 2014:  Today's NOOK Daily Find offer is POPPED —a funny, fast-paced jaunt that takes readers from the fancy Vegas casinos to the run-down hotels off the Strip – for just $1.99.
Overview
It's up, up, and away with sleuth Regan Reilly — in a lively new caper from beloved New York Timesbestselling author Carol Higgins Clark.
L.A.-based private detective Regan Reilly flies to Las Vegas — the mythic city of cash and flash, glamour and kitsch — to help an old school chum, Danny Madley. Danny is producing the pilot of a reality TV show, Love Above Sea Level.The show features three couples who all have experienced the proverbial Seven Year Itch and are now vying for the chance to renew their wedding vows and win one million dollars. But someone is trying to sabotage the show before Danny can shoot the final scene at the Albuquerque International Balloon Fiesta.
Danny's show is in competition with the sitcom Take Me Higher for a coveted permanent slot on Hot Air Cable, also known as the Balloon Channel. Both shows involve hot air ballooning, and both have casts of characters who are more than capable of disrupting production of Love Above Sea Level. Regan's job is to find out who is making trouble and why.
Is the culprit one of the contestants on Love Above Sea Level? Could it be the advice columnists Danny has hired — Aunt Agony and Uncle Heartburn — who are there to help rekindle the sparks between the husbands and wives? Is it Danny's right-hand man, Victor, a local Vegas boy Danny met while gambling? Or his cameraman Sam, who would much rather be surfing than working? Is it Bubbles Ferndale, producer of the sitcom, who is desperate to make her show the one that wins the competition? Is it Danny's ex-girlfriend, the Vegas showgirl Honey? Or her friend Lucille, a dealer in one of the casinos? Could local entrepreneur Roscoe Parker, the owner of the Balloon Channel and mastermind behind the TV competitions, be the source of all Danny's problems? There is no shortage of suspects and no shortage of mishaps.


Nelson DeMille says, "Clark keeps her readers entranced and entertained from cover to cover."
This special price is valid for today only – stay tuned for tomorrow's NOOK Daily Find.