FREE FRIDAY BOOK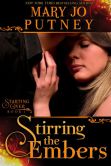 August 29, 2014: Today's Free Fridays book selection is STIRRING THE EMBERS — a story of love and forgiveness laced with mystery by Mary Jo Putney.
Overview
Kate Corsi always dreamed of working in her family's world-famous demolition business — a wish her old-fashioned father denied until his untimely death. He leaves a fortune to Kate and the business to her ex-husband, Donovan — but only if they agree to live under the same roof for a year.
Kate and Donovan married too young and stayed too long in a dangerously destructive marriage. Ten years later, surely they're mature enough to co-exist peacefully. But the embers of attraction swiftly flare into flame again.
Now, they must confront the pain of the past if they are to have a chance for a future and save their business from a saboteur they're beginning to suspect of murder.
FREE FRIDAY APP

August 29,  2014: Today's Free Fridays app selection is POCKET HOSPITAL — a fast-moving game that requires you to think on your feet! Can you handle the daily pressure of a hospital manager? Start small, work hard, and make your way up the health care industry. Be quick, though — your patients are stressed and can't wait long.
FREE FRIDAY VIDEO

August 29, 2014: Today's Free Fridays video selection is the first episode of Season 1 of the children's television series, THE OCTONAUTS!
Dive into adventure with these cute underwater explorers! Join brave Captain Barnacles, daredevil ex-pirate Kwazii, and medic Peso Penguin, along with the other Octonauts as they explore the world's oceans, rescue the creatures who live there, and protect their habitats — above and below the waves!
FREE FRIDAYS AUTHOR RECOMMENDATION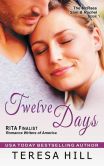 Mary Jo Putney, the author of this week's Free Fridays book selection, recommends… 
"Teresa Hill's books aim dead center for the heart, and TWELVE DAYS is no exception. Sam and Rachel's desire for children has led to shattering losses, and now their marriage is falling apart. Then twelve days before Christmas, a social worker shows up with three young children in desperate need of housing, and no other qualified foster homes are available. Rachel can't refuse the children, but neither Sam nor she dare risk their hearts again. Yet how can they resist? The conclusion left me with tears in my eyes. If you love warm, compassionate small town and family dramas, TWELVE DAYS should be on your reading list!"