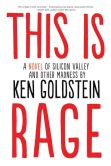 March 27, 2014:  Today's NOOK Daily Find offer is Ken Goldstein's THIS IS RAGE — a riveting thrill-ride set in the dog-eat-dog world of tech start-ups — for just $1.99.
If anyone knows the ins and outs of Silicon Valley, it's former CEO and Chairman of the Board turned author Ken Goldstein. This fascinating novel will leave you with much to think about, what with the CEOs, kidnapping, murder and disgraced radio DJ at its core.
Stay tuned for tomorrow's NOOK Daily Find.