Chapter Four
Laura
My apprenticeship as a yuppie wannabe has sparked a sea of conspiracy theories, perhaps none more crazy or ill-founded than the imagined guilt by association because of my proximity to certain Russian criminals in the 1980s. Allow me to set the record straight.
One of the regulars at the El Caribe was a Russian gangster and businessman named Marat Balagula. He often conducted business at the El Caribe, in the health club my uncle set up on the lower level, so I saw him all the time. He was a tough-looking guy, well built, with shark-like eyes, and someone definitely not to be trifled with; he was the boss of the Russian crime syndicate in Brooklyn, a very serious force at the time. Like so many others at the El Caribe, Balagula was connected with Lucchese boss Gaspipe Casso and together they ran an illegal "tax" scam skimming two cents for every gallon of gasoline the Russian mob sold from scores of Brooklyn gas stations—one of the most lucrative swindles the mafia ever concocted, netting millions upon millions.
In those years, there were lots of kids of Jewish refugees from the former Soviet Union growing up in Brooklyn and Long Island, and they formed a part of my social group. During this time I once or twice ran across a Russian émigré kid named Felix Sater, whom I'll discuss in detail in due course, but I barely knew him as a kid, no matter the fevered speculation about our Russian real estate connections in later years. It also happened that I was friendly with Marat Balagula's daughter Malavena, a pretty Jewish girl who also lived in the Five Towns. Her family's house was in Hewlett Harbor, an expensive area by the water, and the Balagula family definitely lived in style. One evening, I was at Malavena's place with a bunch of other well-off Jewish kids for a party. By this time I was a student at American University, in Washington, DC, and I was back home for the summer break before my sophomore year, running my ice cream concession at the El Caribe and hanging out with friends. I was also unattached.
That night our gang went out to a nightclub called Sprat's on the Water, and I started talking to a young girl named Laura Shusterman. She was gorgeous, seventeen years old, a rising senior at Kew-Forest School in Queens, a prestigious prep school that had once educated a boy then called Donny Trump, until his father lost patience with his bad behavior and worse attitude and enrolled him in a military school upstate. There was nothing romantic between Laura and me at the time, but I liked her a lot. After that night, Laura's best friend called and asked what I thought of her. I told her that Laura was the kind of girl you marry, not someone you just fool around with.
As I went back to college in Washington, DC and eventually graduated from American University, I worked at the El Caribe during the summers but I always had other ways to make a buck. Scalping tickets was one way I learned to earn serious cash. The business was simplicity itself: buy seats at face value and sell high, the higher the better. It happened that I knew the guy at Ticketmaster who had first access to the best seats for the best acts coming through New York: Michael Jackson, Elton John, the Rolling Stones. I would buy a couple dozen super-premium seats, front and center, and then wait for the show to sell out (usually very quickly). Then I set about marketing them to the high rollers and wise guys at the El Caribe, as well as anyone who wanted the most coveted seats for the most coveted shows. In short, I was an opportunist, an impulse that I took to its furthest limits in pushing for the ultimate opportunist to take over the White House.
As I've said, another business I went into was importing high-end European cars. At the time, there was a real arbitrage between European and American prices for sports cars like Porsches and Ferraris. I partnered with a buddy in college and we'd front the money to buy a couple of cars from Italy or Germany, arrange for them to be shipped to the Port of New Jersey, then sell the vehicles to wealthy folks. While other college kids were hitting frat party keggers and writing home for their allowance, I was making bank on my own.
In truth, I was an indifferent student at American University. Ever the dutiful son, I made sure that I passed and didn't burden my parents with excess tuition or the fear that I would drop out. But I wasn't motivated by literature or music or the other pursuits of a liberal arts student; I was biding my time, ticking the boxes I knew were necessary to get to the life I was imagining for myself back in New York City as an attorney and entrepreneur.
For law school, I chose the Thomas Cooley Law School—or I really should say it chose me, as it was the easiest school to get into in the entire nation, so I qualified. I figured that it didn't matter if you went to Harvard or Yale or Stanford for law school; all that mattered was that you were able to pass the bar exam. Once you passed, all admitted attorneys were given the same title: Counselor.
By the time I graduated from law school and moved back to the city, my little brother Bryan was studying at New York University and he had a new girlfriend, also an undergraduate at the college. Bryan told me that his girlfriend had a friend that I should meet; she was great, he said, very pretty and smart and she was like an older sister to his girlfriend. She was three years younger than me and she worked in fashion and lived in Queens; she was Ukrainian by birth, like Bryan's girlfriend. He gave me her number, but I didn't do anything about it. I was dating other girls and chasing around the nightclubs of Manhattan, and I was extremely busy trying to establish my law practice as a personal injury litigation expert. My business model was to accumulate as many cases as possible and settle them as quickly as possible, but what I was really doing was learning how to negotiate and conduct business in New York City, which was the equivalent of learning how to knife fight with gangsters—only these mobsters were wearing suits and ties.
The gangster reference isn't made casually: the insight is central to understanding me, but also Donald J. Trump. At the time, the fascination with the mafia, evidenced in movies like The Valachi Papers and The Godfather, had morphed into a national obsession with organized crime. Mobsters like John Gotti were in the news every day and movies like Goodfellas packing theaters. The tabloids were filled with stories about wise guys getting whacked—lots of them my old heroes from the El Caribe—but something more pervasive was happening in the business circles I longed to inhabit. The cultural markers of the tough New York real estate operator were shifting, with Donald Trump at the forefront, at least as he portrayed himself in The Art of the Deal. Business in New York has always been hard-edged, with the opening bid in negotiations typically starting with an exchange of "F— you" and the threat of litigation. No tactic or ruse was too low, including preying on the weak or vulnerable—in fact, that became Trump's business model, perhaps because he'd gone broke so many times himself, only to be bailed out by his Daddy, that he knew just how defenseless the insolvent really are.
When I was single again, Bryan kept telling me how great this Laura girl his girlfriend knew was, so one day I dialed her digits. Before long, we figured out that we'd met years earlier, at Sprat's on the Water, and we were both friends with Marat Balagula's daughter. The connection was quick and undeniable: she was gorgeous and sweet and I was sociable and ambitious and family-oriented with a soft spot for my nieces; I liked her friends and family and was happy to spend time with them. In short order, we fell for each other, hard.
When Laura and I started dating, I naturally met her parents. She was an only child and the apple of her parents' eye, so to speak, so they doted on her, and when it became apparent that she and I were getting serious, they also took me under their wing. Laura's family had immigrated from Ukraine in the early '70s, so they were technically Ukrainian, but in reality, in the former Soviet Union, their only meaningful identity was that they were Jewish. This form of identification, religious and cultural, really defined the life of the Shusterman family, much as it was central to the Cohens.
Laura and I were married at the Pierre Hotel on October 9, 1994, with 300 guests and a really lovely ceremony, and we soon had two beautiful bouncing babies, first Samantha and then Jake. We bought an apartment on the Upper East Side of Manhattan and enrolled the kids in Colombia Grammar, the oldest non-sectarian private school in the city. I was very involved in the school, joining the board of trustees and working on countless fundraisers. As with my investment properties, where I always wanted to join the board of the condos to keep an eye on how the business was being run, I wanted to be on the board of the school, as my most precious assets were in the school's hands.
By then, I based my burgeoning legal practice out of a modest two-story building I co-owned in an industrial section of Long Island City, in Queens, above the workshop of a taxi business run by me and my business partner, a man named Simon Garber, a Ukrainian Jew with a checkered past but a good eye for how to make money on medallions. Simon had started out as a student driving taxis in New York and then Chicago, before he went into business in Moscow—yes, the mind spins at the coincidence, but that's all it was. By the '90s, Simon was running hundreds of cabs out of a garage in the famous Meatpacking District, and he and I became partners as I started to transition much of my growing net worth into the rough-and-tumble taxi industry.
I was always on the lookout for a good deal, always looking for an edge or inside scoop. At the time, I discovered that one of my personal-injury clients had to make himself scarce in a hurry, two steps ahead of the debt collectors and the law, because he'd consolidated all of his fifty taxi medallions into a single company. One of my client's cabbies had negligently run over and killed a Wall Street trader, and the damages had been set at more than $10 million, effectively bankrupting my client's company. He drained the medallion company of all the cash he could and lit out for Israel, leaving his company as a shell in the rearview mirror. Dealing directly with the liquidators, Simon and I purchased many of the fifty medallions in foreclosure, and I was on my way to getting rich.
There was really only a single problem to my partnership with Garber: Simon was a party animal. Inevitably, he started to cadge cash and grant himself advances from company accounts against future revenues so he could indulge his desires. We started to fight and it quickly got very heated, as I could see his business, and by association my business, going broke.
The solution I came up with was to go out on my own. I moved my office to Manhattan, to shared space with my younger brother Bryan in a building occupied by one of his clients, the son of the jeweler Harry Winston. At the time, the value of taxi medallions kept rising inexorably, to nearly a million dollars each, and I started to view myself as a wealthy investor who also had a legal license on the side. My real forte was doing favors for others. This included all manner of things, from help getting a doctor's appointment with a leading specialist for friends in the middle of a health scare, to arranging for reservations at a hot restaurant, or a political tip for a reporter. When Saudi royalty wanted to purchase the Harry Winston building, I was involved in the negotiations, establishing good relations with Middle Eastern rulers in charge of a multi-billion-dollar investment fund. That was how I was starting to network, to move myself closer to the higher reaches of power and influence; I didn't have a specific destination in mind, but I was plenty ambitious, and very energetic, and I reveled in the sharp-edged sport of getting ahead in New York City.
My life was in excellent order as our children moved through elementary school and Laura and I shopped for a larger apartment in Manhattan. Taxi medallions were a high-leverage asset, and I used the easy finance available from banks based on the soaring valuation of the dozens of medallions I owned to acquire yet more medallions. There was risk involved, but in the early 2000s, they seemed like a safe bet. During these years, I tried a couple of other business ventures, including a gambling cruise line in Florida that didn't work out, but what I was really doing was networking and getting to know people in New York City's real estate and business circles, looking for deals and opportunities.
It was at this time that I bought into Trump World Tower, along with my parents and in-laws, renting out the unit I purchased at a handsome return, along with a unit in the Trump Palace that I flipped for a tidy profit. Along the way, I started to chat with reporters for the New York daily newspapers, especially the tabloid New York Post, as I toyed with the idea of going into politics. I would feed journalists like Maggie Haberman and Richard Johnson tidbits about deals I heard about, and in return we'd gossip about politics and news events of the day. Along the way, I decided to run for office, specifically for New York City Council in 2003, standing as a Republican against the longtime Democratic incumbent Eva Moskowitz in my uptown district; I really had no ideological opinions, apart from being pro-business, but the real attraction for me was the thrill of the fight and the chance to gain power, impulses that would grow steadily and eventually lead to my ruin. I had a knack for public speaking; I was the kind of guy who gave speeches at birthday parties, cracking jokes.
I didn't win, but it whetted my appetite for the cut and thrust of politics, and I discovered how much I enjoyed the back-and-forth with journalists. The persona I was developing was that of a tough, no-nonsense but clear-eyed New York attorney and businessman who was willing to work hard but also fight hard. I had a foul mouth and a wise-ass sense of humor, I like to think, but I was also beginning to try to attach myself to more powerful players in the city in the hope of rising in the ranks.
After my unsuccessful run for office, my brother and I moved our law practice to the white-shoe firm of Phillips Nizer, as I've said before, and I befriended a young real estate developer named Donald Trump, Jr. when Laura and I purchased three units in the new development, Trump Park Avenue, to consolidate into a single unit. That was life, as I knew it, and it was a great one, until the nondescript day in the fall of 2006 when my phone rang and the Trump family summoned me unto my destiny and my downfall.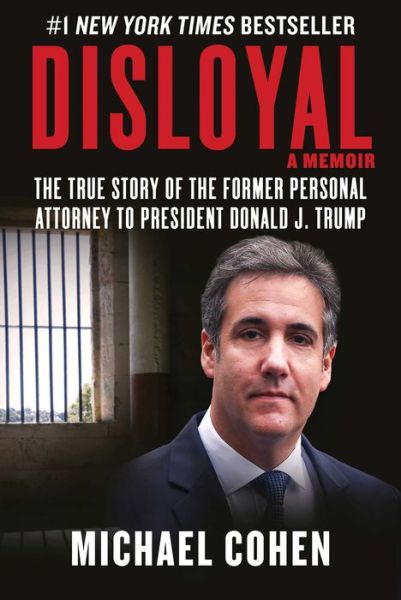 Disloyal: A Memoir: The True Story of the Former Personal Attorney to President Donald J. Trump