Though happy hours are against the law in Boston, there was a good chance colonials were genuinely happy enough to sip a few from Cole's Inn, which opened the first licensed New England tavern in Boston on March 4th, 1634 (the same year Boston Common opened as America's first public park). Samuel Cole was responsible for New England's first drinking establishment, which served the likes of lords, Native American chiefs, politicians, and poets (e.g. Henry Wadsworth Longfellow).
Massachusetts
Massachusetts holds a lot of records. It opened the first American lighthouse in 1716, invented basketball in 1891, and claims the longest-named lake in the world, Lake Chargoggagoggmanchauggagoggchaubunagungamaugg (try that at your next spelling bee competition) in Webster's. The Fig Newton was born in Cambridgeport, the first zip code in the United States (01001) was assigned to Agawam, the first chocolate factory in the United States was opened in Dorchester, the first chocolate chip cookie was made in Whitman in the 1930s, and Harvard was the first college established in North America. There are so many tourist destinations throughout the Bay State and we haven't even reached Boston. Boston is one of my favorite cities to walk in, given its rich history and New England–style colonial architecture—and its incredible cocktail dens.
Did you know Boston Common is the oldest public park in the United States? I didn't. Or that the city's cream pie was created there in the late nineteenth century? Did you know happy hours have not been allowed since 1984? I actually did know that! The list of notable events that have occurred in Boston goes on and on, and the bars and taverns associated with its history deserve continued praise. There are many fine drinking establishments in this city, which pretty much commands my full attention in terms of Massachusetts cocktail influence, a torch lit and carried by influential figures such as Jackson Cannon, Misty Kalkofen, and Josh Childs, who co-owns Silvertone Bar & Grill, Parlor Sports, and Trina's Starlight Lounge. Childs is referred to as a "godfather" by many Boston industry folk. And Brother Cleve, a longtime Boston cocktail historian and mentor, might be standing nearby in a fedora, nodding in agreement.
Go places. Taste things. See the outside. Look inside. Notice. Notice. Notice. Remark. Take risks. Enter contests. Develop a menu of drinks you love (and make those Cosmos). Make a menu that sells itself and notice how you feel. Pour your soul into a project and feel the boots trample on it. Get up. Pour your soul into a project and feel rewarded.
—Jackson Cannon, owner, the Hawthorne (Boston), "Letter to a Young Bartender"
MASSACHUSETTS OLDEST BAR
THE WARREN TAVERN
Charlestown, 1780
It's not very often one can say they had a drink at the same bar as George Washington (see Fraunces Tavern, this page). The Warren Tavern is named after Dr. Joseph Warren, who not only practiced medicine but was a general at the Battle of Bunker Hill in 1775. Back then, taverns were essentially inns with a communal dynamic. People stayed upstairs and ate and drank downstairs. The building housing the Warren is in great shape for one born in the eighteenth century, thanks to a restoration project in 1975. Stop by for some oysters, clam chowder, and the opportunity to sit in a space full of American history.
I think everyone is super jazzed about rum right now due to Maggie Campbell and her team at Privateer putting out amazing products including special releases based around historical New England styles of rum.
—Misty Kalkofen, author, Drink Like Ladies, Del Maguey Ambassador (Boston)
MASSACHUSETTS SPIRIT
PRIVATEER RUM
Ipswich
Though I have been to Boston and can confirm it is rich in Jameson bottles on every shelf in every bar, rum is now the spirit I often associate with Massachusetts. Privateer, which began distilling in 2011, does a remarkable job of resuscitating the historic legacy of rum in New England. They produce a silver reserve label, an amber rum, an annual gin, caskstrength rums (Navy Yard and Queen's Share), and Distiller's Drawer, which are special one-time-only rotating releases of unique bottlings. Oh, also: every Privateer spirit by head distiller Maggie Campbell has received a four-star rating from F. Paul Pacult's Spirit Journal. #nobiggie
BAR SNACK
Jackson Cannon penned a beautiful essay titled "Letter to a Young Bartender," which should be read by everyone looking to be better at work, life, and being a well-rounded human. If you are an industry professional, and you truly care about serving others, and feel disillusioned, weary, or unfulfilled after endless closes and thankless moments where you were trying your best to take care of everyone in the room, please read the letter. It's online and easy to find. You'll start feeling better. It's a healthy reminder we are not machines; we have limits, and that's okay, but never forget the almighty power of patience and tolerance when we share space with different human beings and—let's call out the cute little elephant in the room—alcohol.
MASSACHUSETTS BEVERAGE
CRANBERRY JUICE
Cranberries have been growing in Massachusetts for centuries, with the first recorded cranberry cultivation happening in the early 1800s, and the state still produces more than 30 percent of our country's cranberries. Cranberry got its momentum with Ocean Spray lifting off in 1930, which I believe coincides exactly with the time people started living longer. The juice market skyrocketed in the 1980s, which heightened demand for cranberry juice, followed by more published scientific studies attributing vitamins to the little red berry. Cranberries are credited with having nutrients and antioxidants aiding in stomach disorders, urinary tract infections, kidney stones, preventing tooth decay, and fighting off colds. Yep. When you know all that, drinking a vodka cranberry seems practically medicinal.
What does every bucket list bar need? Good service and warm hospitality. Great drinks are a plus for sure, but if you are going to make a journey to see something truly special, it will only be memorable (in the favorable sense) if you were welcomed warmly, treated kindly, and your needs were met.
—Jared Sadoian, bar manager, the Hawthorne (Boston)
MASSACHUSETTS BUCKET LIST BAR
BACKBAR
Boston
Backbar was opened by Sam Treadway, one of Boston's cocktail Jedi. On top of well-crafted potables, the Star Wars geek in me swoons for a Bananakin Skywalker, made with Scotch, pineapple, lime, Cappelletti, banana, and Angostura, and served in a tiki mug. Along with pun-licious names such as Kale-ing Out Your Name, Raw Vegan Pirate Diet, and the McConaughaissance, I celebrate the Bartender's Choice option, which reads: We would love to have a conversation in order to find the cocktail that best fits your taste. The bartender serving me said he'd moved to Boston one year earlier. "I only wanted to work here, but they didn't have an opening, so I became a regular, because I love this place so much. Eventually, they had a job opening." If you're there late enough, they'll hand out small plates of spicy caramel popcorn. I recommend sticking around.
MASSACHUSETTS COCKTAIL BAR
THE HAWTHORNE
Boston
If you love cocktails, talking about cocktails, sharing a cocktail or two with someone in your life, seeking inspiration from the annals of cocktail history, and having those cocktails be something you think about for the rest of the week, then, wonderful people of Planet Earth, there is a place in Boston, Massachusetts, and it is called the Hawthorne. Everyone who works there moves purposefully, with the right amount of nimble dexterity. Heed their website's masthead:
WELCOME FRIENDS!
We believe in the transformative power of conviviality and the idea that art, music and strong drink can lubricate our consciousness for new possibilities. Our endeavor is to be a part of the continuum of bar, saloon, and tavern as a hot bed of revolution, intellectual discourse and romantic pursuit. Welcome to The Hawthorne and to the time-honored rituals of communion, revelry and the strengthening of the bonds of family and friendship. Cheers!
The Hawthorne is at the ready. One simply has a conversation with their bartender and, through that majestic, timeless interface no tablet, kiosk, or iPad can replace, a special bond is formed. Humans. Speaking to each other. Whoa.
The Vodka Red Bull is my least favorite American cocktail to make. Because it makes me feel like a drug dealer.
—Sam Treadway, co-owner, Backbar (Boston)
CAPE COD
Brian Bartels
This straightforward cocktail actually tastes like vacation near a warm, sunny beach, and hopefully this is currently where you are enjoying one, near a plate of freshly cut watermelon, an endless bowl of salty pretzels, and some bottles of seltzer—which is a recipe option in Trader Vic's 1972 Bartender's Guide Revised, which contains the first published recipe for a Cape Codder. The seltzer does a nice job of cutting some tartness and adding everyone's party favorite: bubbles.
1½ ounces Absolut vodka 4 ounces cranberry juice
½ ounce fresh lime juice
Club soda (optional) Garnish: lime wedge
Pour the vodka into a chilled highball glass with ice, then top with the cranberry and lime juices, and the club soda, if desired. Garnish with the lime.
The well-known bartenders out of Boston that made names for themselves nationally were taught what hospitality was at Silvertone, which is a Josh Childs spot. Josh has been doing the bar thing longer than anyone in the Boston scene. And he continues to be the Santa Claus/godfather of bars in Boston.
—Ted Kilpatrick, owner, Chickadee (Boston)
WARD EIGHT
Brian Bartels
A Ward Eight Boston bartender allegedly created this cocktail in 1898 in honor of the politician Martin "the Mahatma" Lomasney, who never drank but abhorred the thought of Prohibition, knew how to rock a mustache, and famously said, "Don't write when you can talk; don't talk when you can nod your head." If you love Whiskey Sours, and Tom Brady, and Boston history, this is your cup of (ahem) mahatma tea.
2 ounces rye whiskey
¾ ounce fresh lemon juice
¾ ounce fresh orange juice
1 teaspoon grenadine Garnish: orange peel
Shake the ingredients with ice until chilled; strain into a chilled cocktail glass and serve up, garnished with the orange.
PERIODISTA
Jackson Cannon
I came across the Periodista in a New York Times article by Robert Simonson, so I owe fellow New Yorker by way of Wisconsinite Mr. Simonson a proper amount of debt for this recipe. (Next round of cheese curds are on me, sir.) The Boston Periodista was introduced in the mid-1990s by the bartender Joe McGuirk of the now-defunct Chez Henri, and has become a commonly shared cocktail throughout the Boston craft cocktail crowd. McGuirk found a recipe in a liquor company's handbook for its Latin-themed menu, and though that original recipe contained dark rum, Mr. Cannon prefers the lighter rum version. It's important to get the facts right, right? Which brings us to etymology: Periodista means "journalist" in Spanish.
1½ ounces white rum
½ ounce Cointreau (or Combier)
½ ounce apricot liqueur (Rothman & Winter Orchard is great)
½ ounce fresh lime juice
Shake the ingredients with ice until chilled; strain into a chilled cocktail glass and serve up.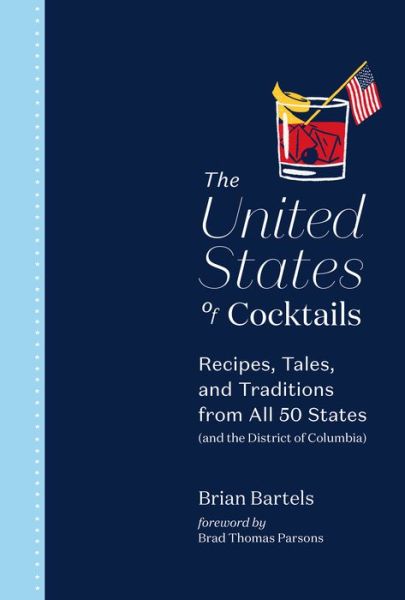 The United States of Cocktails: Recipes, Tales, and Traditions from All 50 States (and the District of Columbia)