Chapter Two
THE 5-P
EXPANSION SEQUENCE
Many years ago, I was invited to speak to the entire student body at a university in the Atlanta area. The subject was how to create success in your life. It was a relatively short lecture, about forty-five minutes, and full of the typical bromides, platitudes, and catchphrases that sound great to inspire an audience. I ended the speech to a standing ovation. When I stepped down from the stage, there was a rush of people who wanted to speak with me individually. We speakers many times refer to this as "stage rush" and sometimes you have to exit backstage to avoid it, especially when there is a speaker right after you. Sometimes, however, you can step off and greet the people who want to share something, which I like to do when it is possible. I find it to be an opportunity to learn from my audience.
I was basking in the glow of attention when a student approached with pen and notebook in hand. He said, "Hey, that was a great speech, I really enjoyed what you had to say. Let me ask you, what are the steps to success?"
"Success is a mind-set," I told him. More platitudes. "It's all in your head. You have to develop the headspace for success." Mind you, it wasn't that I didn't believe that to be true, but it wasn't particularly helpful to say only that.
The student realized that as well.
"Yeah, yeah, I got that," he said. "But what are the actual steps I could take to create success?"
I didn't know how to answer him, and people were watching, so I gave him more of the high-level clichés and catchphrases I'd just delivered onstage—yet the student would not be deterred. He had a clear question in his mind.
"Again, I heard all that," he said. "But what I'm asking you is what is the step one, step two, step three in a sequence? What is the roadmap that I could follow?"
Admittedly, he'd caught me off guard, and I got to feeling quite awkward. He was asking me a real question—one to which I had no answer. I decided to be honest and tell him just that. I also said that because he was asking such a clear and important question, I would work on it and get back to him with a definitive answer within two weeks. He gave me his contact information, and I went to work on an answer to a real question, as compared to all the hype I had been spewing from the platform.
That experience was revelatory. Sure, I'd motivated people, but that student's question made me realize that I hadn't given them anything more than a hot tub experience. Nobody's life was going to change from what I'd shared with them. They'd be pumped up. They'd feed my ego by telling me how motivated they were after my presentation—but giving them a hot tub experience wasn't my purpose. That meant I needed to go to work on something that would give people—especially that student—a pivotal experience. I felt I owed him, particularly because his question was a pivotal experience for me.
As it turns out, that simple, clear question caused me to develop and answer that on a practical level translated into many millions of dollars in revenue for me and countless amounts for those I had taught it to.
The concept I came up with is one that I've utilized now for more than twenty years to help me build my companies. It is still in its original form and application. I never found anything that needed modification—I only went deeper with it so I could understand why it works on a variety of levels. I've taught it as a process to thousands of doctors, business owners, executives, and entrepreneurs to successfully apply as a roadmap to their success.
That process is the 5-P Expansion Sequence.
The five Ps are in order, meaning that the first P represents the most fundamental concept. Emerging from that is the second P, then the third and fourth, with the fifth P serving as the final piece. The sequence is mandatory to the model. The cause and effect attributes are a nonnegotiable aspect of it, and as I'll point out, when people try to reverse the cause and effect relationship of these components, it leads to bad places.
First P: Philosophy
Right now, whether you know it or not, you have a philosophy. As I mentioned in the introduction, every human being on the planet has one—and so does every business. It is at the root of everything. Your philosophy defines how you think and how you apply your thinking as a tool for success. My intellectual mentor, Nathaniel Branden, taught me that you have no choice about the fact that you have or need a philosophy—your only choice is whether you've consciously defined it or not.
In the next chapter, we will do a deep dive into understanding the practical application of philosophy in business. What you need to know here is that for the 5-P Expansion Sequence, philosophy is the first and most foundational concept. There is nothing more fundamental in your life than how you think and how you use your thinking. It is at the basis of everything you do. Once you start to form concepts, you are in the realm of philosophy. It all starts there. It's ironic that most people view philosophy as some sort of impractical, abstract indulgence. The reality is that it is the most practical thing you and your business can hope to embrace.
Emerging out of your philosophy is your purpose.
Second P: Purpose
There have been many books and much discussion about the virtues of purpose—of being purpose-driven in your life and in your business. I've been speaking to this concept for quite some time. In fact, I started a business with a partner back in 1994 called On Purpose. I recognized, even then, how purpose was a motive force for the human experience, and how a clear purpose provided the rocket fuel to propel a business to success.
It's important to note that many gurus and consultants start with purpose as the foundation, but what they need to realize is the purpose doesn't drop from the sky. You don't get suddenly hit with the purpose stick (although sometimes it can feel that way). Purpose comes from something—and that something is your philosophy. It emerges out of the third branch of philosophy, ethics. Before you can get there, you have to develop the first two branches. Again, more on this in the next chapter.
What separates you from any other life form on Earth is that you can choose your purpose. A dog cannot choose its purpose in life—if it could, it probably wouldn't live with you. If a cow could choose, there would be no such thing as McDonald's.
Your purpose is your compass setting. It is your true north. The alternative to being purpose-driven is to be in survival mode. When you're in that mode, the only things that drive you are the avoidance of pain and the seeking of pleasure—not purpose. This "pain-pleasure" theory of human motivation was popularized in the beginning of the 20th century by the behavioral psychologists of the day.
Since that time, many self-help gurus have adopted the pain-pleasure concept and applied it to their seminars and teachings in personal development. Those gurus tell their audiences that they need to understand their behavior in terms of that principle, and they go on to give many examples that seem to ring true. There was always something in my gut that felt that it couldn't be that simplistic—not that it was entirely wrong, but that pleasure seeking and pain avoidance could not represent a complete characterization of what drives human beings. There was something dehumanizing about it.
Here's the thought experiment I take audiences through to help illustrate the distinctions and conclusions I've come to on this issue. Let's compare the direction you're leading your life or business to taking a walk through the woods. Suddenly, on your path you encounter a raging river. It would be quite painful to cross that river, so rather than continue in the direction you were going, you decide to take a left. As you continue on the path to the left, you encounter a large mountain. It would be very difficult to climb, so you turn again to avoid it. This path seems clearer for a good while and you feel some relief. All is well and good until you discover that the farther you travel in that direction, the weather becomes cold and rainy and it's getting worse. Obviously, you'd rather avoid the pain of that weather, so you change directions yet again, heading south where the climate is warmer.
In essence, you're avoiding the pain that ends up in front of you, hoping to find pleasure by some chance, and now you—and your business—are wandering aimlessly, seeking pleasure and avoiding pain.
Now let's look at an alternate scenario. Let's imagine that you have a clear purpose for your business, and that purpose can be dialed into a compass as true north. The compass heading leads you to the river with those rough rapids, and while you realize it will be painful and maybe even a bit risky to cross it, the alternative is to make a turn and lose your purpose, your true north. So instead, your compass directs you to cross the river. Your purpose demands that you steel yourself for the pain and get yourself to the other side.
Now you come to that big, daunting mountain, and the mountain range extends such that there is no easy way or shortcut around it. Once again, you collect your energy and resolve and you climb it, because your purpose-driven compass directs you that way. You keep moving, and when the cold and rain hit, you pull up your hood, bundle up, and forge on through the tough weather.
What also happens when you continue your journey in the direction of your purpose is that eventually, instead of another set of raging waters, you encounter a serene reflecting pond. You take a moment to sit there and reflect in pleasure about your journey.
Then you continue on, and gone are the mountains you had to summit. Now there is a vast green field of soft grass. You decide to take off your shoes and feel the joy of the grass under your feet as you proceed with your walk.
Now the sun is out warming you. You peel off a couple of layers, lift your chin, and smile broadly as the sun hits your face and warms your being.
You see, when you are purpose-driven on your journey, sometimes there is pain, sometimes there is pleasure, but your constant and most important companion is purpose.
Pain and pleasure will always come and go on an alternating basis. That is the way it is supposed to be. For me, aesthetically, there is a beauty in this—something humanizing. When I consider the pain-pleasure model of human motivation, I find it dehumanizing. Remember, what makes human beings different than every other form of animal on the planet is that we can "choose" a purpose. We can abstractly consider it. When we are in survival mode—when we don't have a clear purpose that drives us—then we are living a subhuman experience, like any other animal whose innate program is to survive.
In order to know the full human experience, and in order for your business to be something of consequence that can make an impact in this world, you and everyone involved in your business must be aligned and purpose-driven. When there is clarity as to why the business exists and you can align every stakeholder in it, you now have the rocket fuel to propel you to ever greater heights.
Philosophy and purpose are causes in the sequence.
The next three Ps are effects.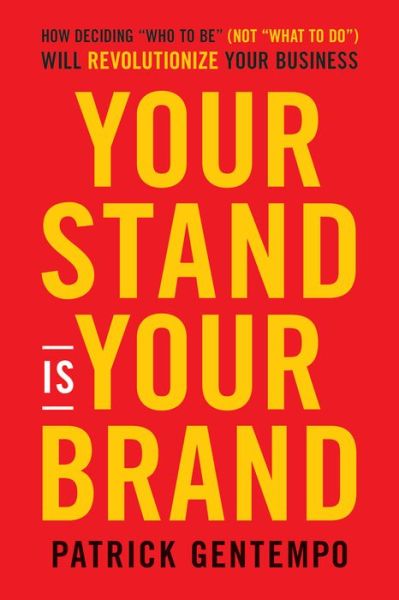 Your Stand Is Your Brand: How Deciding Who to Be (NOT What to Do) Will Revolutionize Your Business