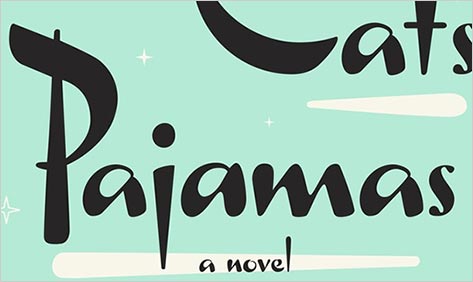 Marie-Helene Bertino's debut novel, 2 A.M. at The Cat's Pajamas, is a playful, painful, deeply detailed account of the lives of several adults and one precocious nine-year-old, finding each other on the night before Christmas Eve in present-day Philadelphia. Three central characters converge: Madeleine, a fifth grader ready to sing (practicing every day and grading herself on performance); her teacher, Sarina, Greene, a self-aware pessimist challenged after seeing her lost love for the first time in years; and Francis Jack Lorca, owner of the Cat's Pajamas jazz club, which is doomed to close if he doesn't cough up a hefty sum. The plot thickens via hourly interactions with the principal of Madeleine's school, Sarina's lost love, Ben, and Lorca's son, the gifted guitarist Alex. We hate this trio of Madeleine, Sarina, and Lorca.. Then we love them. We hope for them. We want them to fail. We see the minute changes in their moods and attitudes that make them genuine. Because although select passages grow cluttered in detail, it is ultimately the nuanced desires of its characters that makes Cat's Pajamas so poetically rich.
Madeleine proves the book's most memorable character: crass, edgy, and hilarious, scared of the roaches infesting her house yet ready to take the world by song. She is sympathetic yet impossible. A victim of life (and lice), and a foul-mouthed jerk to kids around her. "Get your piss cunt out of my creamy fucking way," she'll say. Madeleine's father was once a capable business owner, but her spunky mother's death has broken him. He now stays home all day and listens to Mom's favorite records. For all of Madeleine's childish color, it is hard to imagine she is really a nine-year-old (or ten-year-old, as she'll be in two days). There's a fuming maturity about the way her mind works, not the least of which is exhibited by her profane  language and constant smoking (yes, smoking):
In her room at the prow of her father's apartment, Madeleine Altimari practices the shimmy. Shoulders, shoulders, shoulders. In front of the mirror, so she can judge herself, face sharp with focus. It is the world's most serious shimmy. After thirty seconds, a flamingo-shaped timer trills and hops on its plastic legs. Madeleine stops shimmying and rejoins a Menthol 100 dozing in an ashtray on her vanity.
The star-crossed lovers of Cat's Pajamas are Ben and Sarina, who constantly and continually misinterpret each other. This all began when Ben took Sarina to the prom, determined both to win her heart and convince her that he wasn't very interested. Turns out their respective adulthoods, full of misbegotten romances, have hinged on this occasion: Ben's spent years trying to reform his jerk instincts of that night, while Sarina consistently wonders what could have been. When they finally meet again, it's easy to see how they could have misunderstood each other on that day and ultimately drifted apart. It's also infuriating. So goes amour. At one point in the evening, Ben tells Sarina he and his wife are separated:
"What am I supposed to do," she says. "Wait?" She wants him to say, Yes, wait. I will be home as soon as I run this one errand. Ben perceives disgust in her tone. Why would anyone wait for him? A boy who didn't know how to be a prom date, a man who knows what he needs, but too late.
He releases her arm. His voice is professional with sorrow.
"You certainly couldn't do that."
The intensity of these interactions sometimes saturate the story to an overwhelming degree: one can at times get lost in Bertino's sentences. When Madeleine leaves her apartment in the morning, for example, she marches "through the arch that leads to the street, past the store of stained-glass lamps (a line of dancers; their jeweled heads bow), through the cobbled alley (screw off, rules), to the blue carousel horse in front of Café Santiago." Mostly, though, the frenetic rhythm of Bertino's language and story are, together, charming. At Pajamas' best, poetry emerges in the simplest details, such as the box of cards that Madeleine's departed mother has left her to help with all of life's conundrums. "DO WHAT SCARES YOU", one says. More important, it adds on the back, "BRING A SCARF."