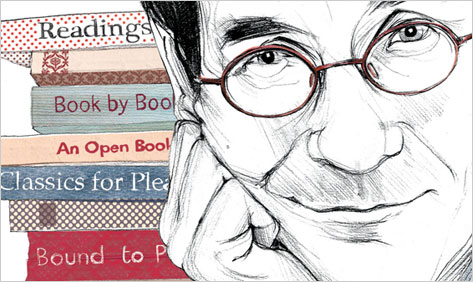 A little over six years ago I was quietly chugging along as a staff writer and editor for the Washington Post Book World. A separate Sunday section of 16 pages, Book World had then been my life for 25 years. On Monday, Tuesday, and Thursday I worked as a senior editor, assigning books — mainly fiction, history, and belles-lettres — to a variety of distinguished reviewers. On Wednesday and Friday I was allowed to stay home to produce a weekly column, usually a longish review or a round-up of children's books, but frequently a personal essay about reading or what one might call the literary life. All in all, things were good: the paper valued my work; I admired my colleagues and enjoyed their company.
But six years ago the world began to change.
When the Post offered a buyout to its senior editors and reporters, I was probably the youngest person eligible to take it. And, despite considerable trepidation, I did take it — though only after some indecisive hemming and hawing, mainly about money. On the one hand, I had two sons in college and a third who soon would be. On the other, my mortgage was paid off and my wife had recently gone back to work fulltime. Fortuitously, the Post itself tilted the balance by offering me a contract as a weekly book columnist. Such an arrangement — which continues to this day — would give me a small but reliable income. I counted on being able to double it through freelancing. A whole lot of freelancing.
That was, after all, the reason I took the buyout. I was restless and wanted to spend more time writing. I was no longer a young man, but I still had a young man's daydreams and desires. I'd published one collection of essays, Readings, in 2000 and had followed that with a memoir, An Open Book, which chronicled my childhood passion for the printed word. Now, before it was altogether too late, I wanted to bring out more books, write articles and reviews for various magazines, see if I could make it as an independent literary journalist.
Of course, I didn't count on the now ongoing crises in print journalism. Nor that Book World itself would cease to be a separate section in 2009 (my pieces now appear in the Style pages on Thursdays). Neither did I pay enough attention to Edgar Rice Burroughs's comment about being a professional writer: "It's a great life if you don't weaken." Still, a long career in newspapers, combined with a workingclass background, does teach resilience. Any journalist I've ever known figures that he can cover just about anything. It's part of the cocky charm of the field.
Which brings us to my reading during 2009. People sometimes ask me what I read for pleasure, and I generally answer: nothing. As I've said on my Post discussion group/blog (check out washingtonpost.com/readingroom), I do get pleasure from books, usually a lot of pleasure, but my motives are otherwise pragmatic: I read in order to write. By choosing carefully what I review or the projects I undertake or the essays I work on, I know that I will usually enjoy the labor they entail. I also have a rather obvious, and old-fashioned, personal agenda — to acquaint myself, if only in a limited way, with what Matthew Arnold called "the best that has been thought and said." My collections Bound to Please and Classics for Pleasure, and to a lesser extent Book by Book, are essentially dispatches from that lifelong project.
So too is this monthly column "Library Without Walls." Here, the BNR's gracious editor has allowed me the chance and the space to write about classics from around the world and, in particular, about slightly quirky or underappreciated works that should be better known by Americans. May I quickly remind readers of those covered in "Library Without Walls" since the feature began this past summer? Goethe's Elective Affinities is an elegant prose minuet in which four admirable but flawed people gradually, unwillingly break one another's hearts; it's probably the finest German novel before Thomas Mann's Buddenbrooks. Modern Iran has produced several great novels — e.g., the comic My Uncle Napoleon, by Iraj Pezeshkzad — but its most famous is the spooky, philosophical, and sexy classic, The Blind Owl, by Sadegh Hedyat. The Pillow Book of Sei Shonagon offers a wonderful, and sometimes acid, portrait of court life in Heian Japan, circa 1000 CE. (In one of those charming anomalies of history, Sei Shonagon served one Japanese empress, while the great novelist Murasaki Shikibu, author of The Tale of Genji served her rival.) J. R. Ackerley's Hindoo Holiday is a 1930s travel memoir about a visit to a small Indian principality; it's funny, touching, and sometimes campily outrageous. Anyone fascinated by witchcraft, ancient survivals, and Renaissance folkways should certainly seek out Carlo Ginzburg's Ecstasies: Defining the Witches' Sabbath. Last month's column, on the poems of Thomas Hardy, aimed to remind readers that the author of Tess of the Durbervilles was as moving a poet as he was a novelist. I'll say no more about these pieces, since they're all archived and easily accessibly on this website. Do take a look if you missed any of them.
This abiding interest in classics, regardless of genre, shows up throughout my literary journalism for 2009. Among the 60 or 70 mostly new books I reviewed for the Washington Post and other places, I've generally managed to sneak in the occasional piece about some older writer now available in a spanking fresh format. For instance, The New York Review of Books allowed me to write about two new editions of Kenneth Grahame's The Wind in the Willows, while the Weekly Standard recently published an essay on critic Herbert Read's single novel, the strange Utopian fantasy, The Green Child. That beautiful publication, Lapham's Quarterly, solicited some reflections on Aeschylus's Oresteia for an issue devoted to crime and punishment, while The Chronicle Review, part of The Chronicle of Higher Education, asked for a retrospective essay about a classic modern author, the late John Updike. As much as possible, then, I do my best to entice people to read beyond the bestseller lists, to try wonderful books they may have never heard of. Not that I don't review lots of well-known, contemporary authors. I do. We all have an obligation to enjoy and support the writers of our own time. Especially poets. For 2010 I've resolved to read more poetry.
But enough of these preliminaries. The following, in no particular order, are the 12 books I read during 2009 that continue to linger most vividly in my memory.
J.G. Ballard, The Complete Stories. J.G. Ballard died earlier this year, and this mammoth volume serves as the only kind of memorial any writer wants. From the very start — see his early disaster novels The Drowned World and The Crystal World — Ballard quickly established new possibilities for science fiction. He himself soon specialized in what he called "inner space," insisting that the "only truly alien planet is Earth." But he wasn't just a man of ideas. His style combined an almost medical precision with an astonishing power for evocative description and ominous suggestion. Take the beginning of one of his best known stories, "The Voices of Time": "Later Powers often thought of Whitby, and the strange grooves the biologist had cut, apparently at random, all over the floor of the empty swimming pool." While reading Ballard it's hard not to agree with Martin Amis, who called him "the most original English writer of the last century."
Michael Holroyd, A Strange Eventful History. In this group biography Holroyd — much acclaimed for his previous books on Lytton Strachey, Augustus John and Bernard Shaw — focuses on the colorful careers of Henry Irving and Ellen Terry, the two greatest actors of the late 19th– and early 20th-century English stage. In effect, that means his enthralling story touches on every aspect of the period's theatrical life. For instance, Ellen Terry's brother Fred originated the role of Captain Hook, while her illegitimate son was the visionary set designer Gordon Craig and her great-nephew no less than John Gielgud. Henry Irving himself was a figure so darkly charismatic and imposing that he contributed traits to the protagonist of one of the most famous books of all time: Dracula, written by his life-long stage manager Bram Stoker.
Thomas Pynchon, Inherent Vice. Okay, it's no Gravity's Rainbow or Mason & Dixon, but that's just fine by me: Sometimes you don't want to climb Mt.. Everest, sometimes you just want to take a stroll on the beach — preferably a beach in Southern California, in the late '60s, when all the world seemed young and hopeful. Inherent Vice, like the film The Big Lebowski, which it somewhat resembles, is an updated Raymond Chandler mystery with a brilliant phrase or simile on every one of its pages. You're guaranteed a good time: "She came along the alley and up the back steps the way she always used to. Doc hadn't seen her for over a year. . . ."
A.J. Liebling, The Sweet Science and Other Writings. Ask any longtime devotee of the New Yorker to name its greatest "staff writers" and the list will be headed by Joseph Mitchell, E. B. White, and A.J. Liebling. This Library of America volume includes not only the title work about boxing (aka, "the laying on of hands"), but also celebrated portraits of Louisiana governor Earl Long and the gambler Colonel John R. Stingo, pieces about the grifters and con artists of old Broadway, and a lovely memoir of meals eaten in Paris. Do you want to learn to write expressive, pungent, and witty nonfiction? Then, give your days and nights to Liebling. Who else would describe a Southern politician acting "as confident as Oedipus Tyrranus before he got the bad news?"
Gunter Grass, The Tin Drum, a new translation by Breon Mitchell. Ours is a great age of translation–think of Robert Fagles's Homer and Virgil, David Ferry's Horace, Richard Pevear and Larissa Volokhonsky's versions of Tolstoy and Dostoevsky. To this list one can now add Breon Mitchell's fresh rendering of The Tin Drum. If you've never read this modern German classic — a novel about a dwarf and his family, as well as a meditation on German history during the first half of the last century — here's your chance, and one you shouldn't pass by. Grass's book is macabre, harrowing, touching and funny, an achievement comparable to Garcia Marquez's One Hundred Years of Solitude and Toni Morrison's Beloved.
Jayne Anne Phillips, Lark and Termite. This multi-generational novel — shortlisted for the National Book Award — tells the complicated story of a West Virginia family and community, from the time of the Korean War until the 1970s. At its heart is a mentally handicapped child and a beautiful young girl coming of age. Does this sound sentimental or trite? Well, you wouldn't say that about The Sound and the Fury. At times Phillips novel seems a kind of homage to that Faulkner classic (with a touch of The Wild Palms thrown in). At all events, the writing is imaginative and exact, as when she describes a class in touch typing:
Now Barker Secretarial has filled the big upstairs room with lines of Formica-topped desks, each with a pullout shelf where we keep our typing books (Look to the right, not to the keyboard, look to the right–). We have to be on time because the drills are timed and we turn on our machines all at once; there's a ratchety click and a rumble, like the whole room surges, then it hums. . . . We all work at one speed for practice drills. We're like a chorus and the clacking of the keys sounds measured, all together. Then at personal best we go for speed and all the rates are different. The machines explode with noise, running over themselves.
Patricia Highsmith, The Ripley Novels. Highsmith's two most famous books — Strangers on a Train and The Talented Mr. Ripley — were both made into striking films, both of which nonetheless softened the twisted psychology of the originals. The Ripley novels — there are six altogether — show Highsmith as a darkly comic novelist, whose meticulous and cultivated protagonist remains hypnotically charming even when he murders in cold blood. The novelist herself was just as strange and fascinating as her characters — see Andrew Wilson's biography Beautiful Shadow or the just published new one by Joan Schenkar, The Talented Miss Highsmith, superbly reviewed for BNR by Leonard Cassuto.
Robert Silverberg, Dying Inside. As a barely pubescent boy, I remember reading Robert Silverberg's science fiction juvenile, Revolt on Alpha C. Little did I know that Silverberg had written it when he was himself still a teenager. Over the intervening years this gifted and energetic writer has published scores of books, but his novels of the 1970s are perhaps his finest achievement. In Dying Inside, my own favorite, he describes the life of the burned out David Selig who is burdened with the ability to read people's minds. This is no blessing. The aging former grad student hides his talent from the world, in part because it makes him feel like a scummy perverted voyeur. In recounting Selig's life, Silverberg vividly evokes New York student life in the 1ate 1950s and '60s: a time of bisexual professors, swinging singles, Black Power, psychedelic drugs, and all-round social and political upheaval. But his truly brilliant stroke is this: one day Selig discovers that he is gradually losing his power. The result is a masterpiece about a common human sorrow, the great shock of middle age — the recognition that we are all dying inside and that all of us must face the eventual disappearance of the person we have been. If you like the early work of Philip Roth, especially Portnoy's Complaint, don't miss the new trade paperback of this masterly novel.
Michael Slater, Charles Dickens. This new biography of England's greatest novelist is written by the greatest living Dickens scholar. The result is an astonishing and detailed portrait of the artist as a novelist, businessman, performer, and, to his millions of contemporary readers, family friend. Dickens was, in fact, a workaholic multi-tasker who seemed incapable of slowing down. In his power to create living characters — such as the feckless Mr.Micawber, the humorous nurse Mrs.Gamp, the odious toady Uriah Heep, the miserly Ebenezer Scrooge — he is rivaled only by Shakespeare.
George MacDonald Fraser, The Flashman Omnibus: Flashman, Flash for Freedom!, Flashman in the Great Game. From time to time, I've been asked to introduce a new edition of a classic. This past year I spent a good many delightful hours in the company of Victorian England's greatest rogue, the cowardly, lecherous, and — to a large degree –deeply sensible Harry Flashman. Through luck or mischance, Flashman is present at virtually all the great battles and insurrections of the second half of the 19th century, from the Indian Mutiny to the American Civil War (he served on both sides) to the massacre at the Little Big Horn. He meets everyone from Queen Victoria to Abraham Lincoln. In the various installments of The Flashman Papers the old soldier recounts his amazing life in a slangy, rich Victorian English that is a joy in itself. No doubt about it: Fraser's rakish cad is one of the most wonderful fictional creations of our time.
Margaret Atwood, The Year of the Flood. In this companion volume to Oryx and Crake, Canada's greatest living novelist describes a world just before and after most of mankind is eradicated by a terrible plague. As with much science fiction, Atwood extrapolates from current trends: gated communities have become armed compounds; religious fanaticism runs rampant; sex, drugs, and computer toys are the main preoccupations of the citizenry. But Atwood's vision is even darker than you think, and nearly every aspect of life has grown vicious, exploitative, and cruel. It's a brilliant dystopian novel — and you don't need to know Oryx and Crake to enjoy its imaginative exuberance.
Donald E. Westlake, Get Real. It was just about a year ago that Don Westlake died suddenly while on vacation in Mexico with his family. This, consequently, is the final "Dortmunder" novel, the last of a series of comic capers about a gang of thieves whose scams and operations never quite go according to plan. If you've never read Westlake, you've missed out on one of the most ingratiatingly enjoyable prose stylists of our time. The Dortumnder books are his best known — the series begins with The Hot Rock, in which the gang must steal the same gem over and over again — but anything from this consummately smooth professional is worth your time. Don't miss, for instance, The Ax, Westlake's gallows-humored masterpiece about a middle-aged manager who has been laid off and gradually realizes that there is only one way to be absolutely sure that he will be given the new job he desperately needs. The result is an updated American version of the classic British film, Kind Hearts and Coronets. Because Westlake used several pseudonyms, to some people he is better known as Richard Stark, the creator of Parker, the coldest, most efficient career criminal of all time. The first novel in that series, The Hunter, was filmed twice, as Point Blank with Lee Marvin and then again as Payback, with Mel Gibson.
Barbara Roden, Northwest Passages. For the last of my dozen books, I'm picking a personal favorite, the first collection of eerie, unsettling stories by a wonderful Canadian writer. After all, what would Christmas be like without a few spooky tales? I'm not an unbiased judge of Barbara Roden's work, however, since I wrote the introduction to Northwest Passages. But if you enjoy uncanny tales, or the dark fantasies of Ray Bradbury, or brilliant pastiches of Victorian prose, or even the classic episodes of Rod Serling's "Twilight Zone," you will certainly devour these 10 stories. In one, the members of a 19th-century polar expedition discover that a member of their crew isn't quite what or who they think he is; in another, a modern young couple decide to explore an abandoned amusement park. This, I can tell you, is never a good idea.
And there's my dozen. Of course, the year 2009 isn't quite over yet and I can point to a few more terrific books I've just recently finished or am still reading: The elegant erotic novella No Tomorrow, written in the late 18th century by Vivant Denon; the 1000-page abridgement of Joseph Frank's five-volume life of Dostoevsky, David Slavitt's new translation of Ariosto's epic poem Orlando Furioso; Robert K. Merton's genial — in all senses — On the Shoulders of Giants: A Shandean Postscript. Ezra Pound, surveying the writing of his time, once said, "It is after all a grrrreat littttttterary period." I wouldn't go as far as that in describing 2009, but it was still a pretty good year.