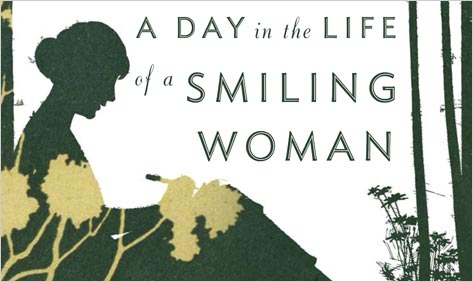 The venerable British author Margaret Drabble's short stories, collected here for the first time, are concerned with women, all independent in spirit, if not in practice. Published between 1964 and 2000 and appearing chronologically according to publication date, the pieces that make up A Day in the Life of a Smiling Woman may be the last "new" material we'll get from Drabble: now 71, she retired from writing in 2009 because she feared, as she remarked in a BBC interview at the time, "repeating myself without knowing it, which is what old people do endlessly." Drabble is similarly modest about her short-story career, but thankfully not too modest to keep her efforts hidden from the public. Her X-ray view into the female psyche is no less powerful than in her longer works. Within these compact narratives lie complex character studies that explore both what it means to be British and to be a woman in the 20th century.

Drabble's characters follow the author from the 1950s into the 2000s: several of them are college-age women, concerned with impressing friends and being charmed by men, and many more are middle-aged women, often happier and freer than their younger counterparts. Their preoccupations don't change with era or age: work, motherhood, love, war, and death are their chief concerns. But for all, one perk of modern-day living seems to be off the table: divorce. Many of these women put up with wretched husbands, have years-long affairs, and sometimes both. But the most memorable enjoy independence above all else. Some insist upon it; others come to it later.

The youngest in this cast, like Helen in "A Voyage to Cythera," do not dream of a happily married life, but rather assume that happy marriages don't exist, and that affairs are just a fact of life. Drabble provides plenty of fodder for that argument in other stories, such as "Hassan's Tower," where a man on his honeymoon in Morocco is already mourning the rest of his life. In "The Merry Widow," Elsa, the widow in question, experiences no less than euphoria following her husband's death; she looks forward "with a voluptuous, sensuous, almost feverish longing to the delights of solitude." "Marriage has warped me," she says to herself. "Marriage is unnatural."

The welcome contrast to these quiet currents of introspection comes with the recurrent, often surprising pop of Drabble's humor—true to her British roots, it's dry, and sometimes dark. Elsa, pouring herself a gin and tonic, imagines her late husband trying to cook and then "smiled to herself. Now Philip was dead, she could laugh at him at last." At points these stories even take a Wodehousian turn, as when the Nobel Laureate heroine at the center of "The Caves of God" embarks on a trip to Eastern Europe to reunite, just for a day, with her ex-husband. She is inspired by an unlikely event: the "posthumous publication of the diary of the father of an old friend of her ex-husband," which contains amusing notes about the ex-husband, whom the diarist calls, among other things, "a bit of bad news" and a "pretentious little prat."

In "Faithful Lovers," former lovers, who cheated on their spouses with each other for years, run into each other at their old meeting place. The man asks the woman if she didn't "feel some sort of slight tremor" upon seeing each other again. She replies that it's "hard to tell when one's sitting down." Such exercises of wit form a patina over the more troubling aspects of the story: the lovers broke up because the woman insisted on it, and they get back together because, in the boredom of her marriage, she conspires for them to bump into each other, ever in control of the situation, if not always committed to it. When he joins her at her table, she finds herself "horrified by the dangerous proximity of his head." Moments later, they're kissing.

This last heroine is a fine representative of all the women in this collection, who are undeniably human: they cheat; they use men; they're captivated by men; they snatch men away from their wives; they rejoice in their deaths. But many of their actions can be seen in a more positive light, as celebrations of freedom, especially when Drabble adds a dose of humor to the tales. In "The Dower House at Kellynch: A Somerset Romance," the heroine charms a man into marrying her because she wants to live in his family's house, a riff on Elizabeth Bennet's smitten response to seeing Mr. Darcy's house for the first time in Pride and Prejudice. "I feel such a sense of my own power," this heroine says to herself as she considers marrying either the man or his brother—whomever will guarantee her ownership of the property.

But the most powerful women here are undoubtedly the single ones—those who bask in their freedom, unhurried and untethered. In "A Success Story," a young woman playwright rejects the advances of an older playwright she deeply admires, her ego satisfied that he's making the advances at all. In "Stepping Westward: A Topographical Tale," a woman traveling alone through Wordsworth country asks herself, "Was I happy, was I sad? Who is to say?," as if having to decide is beside the point. And in the delightful early story "Les Liaisons Dangereuses," a woman sits atop a bookcase at a party, surrounded by a circle of admirers, waiting for someone to impress her enough to come down.
---
Liz Colville is a writer based in Berkeley, CA. She contributes to NPR, The Economist, The Daily Beast, and others.