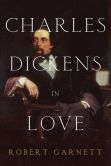 Dickens did not quite "invent" Christmas, as it is sometimes claimed, but, ever since A Christmas Carol was published in 1843, Scrooge's Yuletide nightmares and joyful Christmas morning have become as much a part of the popular idea of the season as Christmas trees and endless, maddening renditions of "Jingle Bells." A little searching yields about 1,700 different editions of A Christmas Carol for sale, and theatrical performances are an annual tradition.

Christmas was, as one may have guessed, Dickens's favorite time of year. With his large group of family and friends, he usually observed the holiday for the traditional twelve days, ending with an extravaganza of games and home theatricals on Twelfth Night, January 6th.

But not every year went according to plan.

In December 1867, Dickens found himself far from his beloved English home in rural Kent. Instead, he was all the way across the Atlantic in America, beginning a strenuous tour of public readings. It had started off well enough. His first reading, in Boston, had been a success. He read from A Christmas Carol — one of his personal favorites and always a popular choice. (Over the course of his public reading career, he read it 127 times.) Next he went to New York, where, on one snowy day, he reported that he dashed about "in a red sleigh covered with furs, and drawn by a pair of fine horses covered with bells, and tearing up 14 miles of snow an hour."

But the burdens of travel soon began to weigh heavily on him, and he became homesick. He knew few people in New York, and none well. "It is a wearying life, away from all I love," he lamented in a letter. In particular, he missed his young paramour, Ellen Ternan. He had hoped to bring her to America with him for the trip, but he had ultimately yielded to more prudent counsel. (Dickens was a celebrity, after all, and it would have been quite difficult to conceal an attractive young woman accompanying him.) He felt her absence keenly. "I cannot tell you . . . how sorely I miss a dear friend," he sighed.

Then, shortly before Christmas, he caught a "dismal cold," an "American catarrh," as he called it. "English colds are nothing to those of this country," he groaned miserably, but then, as now, there was no cure for a cold. (Scrooge, too, had a cold on Christmas Eve.)

All through December, he shuttled by train between a hotel in cold New York and a hotel in even drearier Boston. It was no pleasant commute. American trains "are truly alarming," he reported as he sneezed and snuffled his way between the two cities, and "the treatment of the luggage is perfectly outrageous."

All the time, he longed for Ellen. The day before Christmas, he wrote to his assistant in London, directing him to forward an enclosed letter to Ellen. "I would give £3,000 down (and think it cheap)," he added wistfully, "if you could forward me, for four and twenty hours only, instead of the letter." (Today's equivalent of Dickens's £3,000 would be $500,000 or more — for which he could now rent a private jet for the day trip and have plenty still to spare.)

On Christmas Eve, he read A Christmas Carol in Boston. He was not scheduled to perform on Christmas Day, but far from spending a relaxing or festive day, he spent it trapped on one of those distressing trains back to New York. In his little pocket diary, he noted for December 25th: "Heavy cold, idle, & miserable." In a letter to his daughter Mary, he reiterated the same, telling her he was "exceedingly depressed and miserable." Two days after Christmas, he had fallen so ill that he had to call for the doctor. The virulent cold persisted well into the spring.

Still, Dickens was resilient. A few weeks later, during a reading in Washington, D.C., a dog suddenly appeared in the center aisle and stared intently at Dickens standing at his reading table on the stage. Then the dog disappeared, and Dickens's eye roamed through the large audience wondering where it had gone. Suddenly, it reappeared in a different place — and barked.

"I was seized with such a paroxysm of laughter, that it communicated itself to the audience," Dickens described the scene, "and we roared at one another loud and long."

On that night of infectious laughter he happened to be reading, of course, A Christmas Carol.
Robert Garnett is the author of Charles Dickens in Love.