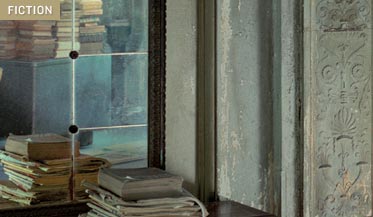 Near the end of Antonio Muñoz Molina's A Manuscript of Ashes (which was originally published in Spain in 1986), a literary catechism emerges from beneath a cover of despair:


Remember what we were saying ten or twelve years ago: to go on writing or painting in the age of movies is like insisting on perfecting the stagecoach when propeller planes already exist. Propeller, do you remember? We liked that word so much. It was like the name of an Ultraist goddess.

The anecdote comes from Jacinto Solana, a writer who is recollecting what his friend Orlando once told him; though the painter's words provide no reassurance, they validate the persistence of the literary drive. It's illustrative of Molina's talent that this affirmation is rolled out so smoothly. Without a smudge of didacticism, the question — Why commit to writing in an age buffeted by more viable modes of expression? — is raised and answered, as if by happenstance, using one of the utensils of complaint. The tenor of this excerpt is evidence of where Molina's story falls on the continuum of fiction. His work belongs to a certain genus of the novel that's less absorbed with telling a straightforward story than bathing in the tactility of words (e.g., "propeller") and demonstrating consciously the things the art form generally does best.

Already well known in his native Spain, Molina came to the attention of the English-speaking world largely through his 2001 novel Sepharad, which braided together terrors of the Spanish 15th century (including the expulsion of the Jews) with the 20th (the Spanish Civil War among them). Now, this new translation of one of his earliest works reveals another layer to Molina's concern with the impact of historical traumas on individual lives.

A Manuscript of Ashes excels at offering up private cosmologies by revealing the fissures between factual and remembered events and showing how time flows subjectively for its characters. (For example, "He doesn't remember dates, only sensations as extensively modulated as musical passages, habits of tranquility sustained in the restlessness of waiting?") The book is also dexterous at showing how the emotions of others can contaminate oneself, thus allowing one character to experience "a melancholy not entirely his." The character referred to in both quotations is Minaya, the story's protagonist.

In January 1969, Minaya — a university student in Madrid — writes to his cousin Manuel, whom he has been taught since childhood to refer to as his "uncle." The purpose of his contrivance is to win Manuel's permission to visit his home, in the (fictional) city of M?gina. While Minaya's stated purpose is to conduct research for a dissertation into the life of Manuel's best friend, Jacinto Solana ("the almost unpublished poet of the generation of the Republic," believed to have been executed for political reasons in 1947), he's really looking for a place to hide out. Having recently spent five days in prison for participating in a movement to oppose Franco's dictatorship, he's anxious to avoid any further reprisals. Adding to his dissimulation is the fact that he lifted the idea to write about Solana — a name he'd heard mentioned by his deceased father — from another student who made the mistake of informing him about his project in their university's cafeteria.

For three months, Minaya stays at his uncle's mansion. During his sojourn, he falls in love with In?s, the youngest maid on staff, and becomes steeped in his uncle's amorous history. From a number of sources, he learns about Manuel's wife, Mariana — an object of desire for both himself and Solana — who was killed on the day after their wedding. Minaya's presence seems to have a positive effect on his uncle, who has been lost in a wormhole of remembrance:


had cataloged not only all of his memories but the photographs of Mariana and of Jacinto Solana as well, and distributed them around the house according to a private and very strict order, which allowed him to transform his passage through the rooms into a reiterated commemoration. He was not satisfied with the few images that a man can or has the right to remember: he demanded of himself dates, precise locations, exact tones of light and nuances of tenderness, enumerations of meetings, of words, and with so much thinking about Mariana and the man who had been his best friend, his reflections became worn, so that he was no longer sure they had really existed outside the photographs and his memory.

Minaya is granted a lesson in one of literature's great truths: we require the gaze of the other to disclose who we are to ourselves. This point is stressed, recurring throughout the book, as when Manuel tells him:


hen I lost , I wasn't losing only the one man I could call my friend but also the right to remember or know how my life had been before I renounced it forever. Things exist only if there is someone, an interlocutor or a witness, who allows us to recall that at one time they were true… It was the same before the war, when and I fell in love. We were always looking for him, because his presence made us aware of our happiness more intensely than when we were alone.

Grateful for his company, Manuel lavishes his "nephew" with solicitude. But this isn't enough to allay Minaya's suspicions after he finds — in the marital bedroom, which his uncle normally keeps locked — a manuscript by Solana assumed to have been irretrievably lost. The discovery of this document (which bears the name of the novel's original Spanish title, Beatus Ille), along with others, makes him wonder how Mariana really died — the official story being that she was a civilian casualty of the Spanish Civil War. As he turns up secrets that have lain dormant for decades, the vocabulary that Molina uses to portray Minaya's mind-set — words like "spy," "countersignature," "simulation," and "impostor" crop up — is also used to describe other characters. This leaves one with the impression of looking out onto a linguistic river of interflowing lives.

There is much more to this grave, compulsively re-readable novel (which has been splendidly translated by Edith Grossman) than the thrills to be had from unraveling its murder mystery. Molina writes sentences of enviable plentitude that defy the denotation of a movie camera. For instance, here Solona imagines how his father was executed by Nationalists who believed he'd lent his support to the Republican cause:


jumped out of the truck…. Long before the sound of the bolts on the rifles and the single detonation that he didn't hear, he had stopped being afraid because he knew he was on the other side of death: death was that yellow light blinding him, it was the shadow that began behind it and took on the shape of the nearby olive trees and the men hiding in them or confused with them who raised their rifles and remained motionless for an endless time, as if they were never going to move or shoot. Not the pain of the void or the vertigo of falling with tied hand to the ground or onto another body but a sudden sensation of lucidity and abandonment and the raw taste of blood in his mouth that was closed against the dark.

The insistence on the primacy of the invisible reckoning, as opposed to the outwardly visible action, gives both this passage and this novel an unsinkable power.