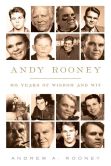 Andy Rooney was born on this day in 1919. In his Introduction to Andy Rooney: 60 Years of Wisdom and Wit (2009), Brian Rooney offers a loving but frank portrait of his father. He was an excellent cook and often "a terror in a restaurant"; he was an enthusiastic but impatient woodworker; his principled, sometimes quirky rules for daily living allowed no compromise (for example, he insisted that the keys to the family cars be kept in their respective ignitions even after one car was stolen out of the driveway); his pronounced opinions were all his own:
As a writer, and as a man, he thinks he can create his own world. He doesn't care much for reading, except for the New York Times. He likes to say, "I'm a writer, not a reader." He does not read fiction and I suspect he has read only a few books cover to cover since he was in college, and maybe not even then. His primary contribution to culture in the family was bringing home a 45 rpm copy of Del Shannon's "Hats Off to Larry." He says, "I am not interested in being diverted from my own thoughts." He doesn't like listening to music or going to the Broadway theater, although he has had season tickets to the New York Giants most of his adult life. His genius as a writer is not knowing much about what anyone else says or thinks. It's knowing exactly what he thinks.
---
Daybook is contributed by Steve King, who teaches in the English Department of Memorial University in St. John's, Newfoundland. His literary daybook began as a radio series syndicated nationally in Canada. He can be found online at todayinliterature.com.