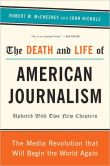 We shall be Conservative, in all cases where we think Conservatism essential to the public good; — and we shall be Radical in everything which may seem to us to require radical treatment and radical reform. We do not believe that everything in Society is either exactly right or exactly wrong; — what is good we desire to preserve and improve; — what is evil, to exterminate, or reform.… And while we design to be decided and explicit in all our positions, we shall at the same time seek to be temperate and measured in all our language. We do not mean to write as if we were in a passion, — unless that shall really be the case; and we shall make it a point to get into a passion as rarely as possible. There are very few things in this world which it is worth while to get angry about; and they are just the things that anger will not improve.
–from "A Word about Ourselves," an editorial describing the mission of The New York Times, which began publishing on this day in 1851 (as The New York Daily Times, the "Daily" kept for the first six years)
---
Daybook is contributed by Steve King, who teaches in the English Department of Memorial University in St. John's, Newfoundland. His literary daybook began as a radio series syndicated nationally in Canada. He can be found online at todayinliterature.com.