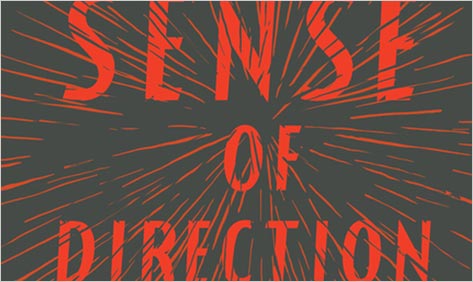 Fresh out of college, there was San Francisco, where Gideon Lewis-Kraus followed love and spent "three years idly wondering why I was there and not somewhere else — pretty much anywhere else, but especially somewhere that paid slightly less attention to heirloom produce." The love lost its bloom. And so to Berlin — without girlfriend or tomatoes but lugging fistfuls of emotional baggage — "because nowhere was more appealing than Berlin had once been, should have been still," a step west of the cutting edge.

Berlin offers a nonstop moral holiday, "soft and heavy with desire," and Lewis-Kraus is "an agent in the world of total possibility." He is free to pursue his writing — the sojourn underwritten by a Fulbright, mention of which is dropped with conspicuous casualness into the proceedings — but the sheer number of his options produces crazy crosscurrents, and his only rudder is indulgence. Out of this "crisis of doing what you want" comes a creeping malaise. A Sense of Direction is what he needs, and he charts it in this pilgrim's progress, a pleasingly untidy memoir of hard travel in distant places.

Three pilgrimages are chronicled: one in Spain, another in Japan, a third in the Ukraine; one linear, one circular, one a point in space. Though Lewis-Kraus professes a dislike of descriptive travel writing, he has a lovely hand at it: "In the little bays the water pools in absinthe clouds," while down the coast are "darkening granite cliffs over an empty copper sea." The other writing here is pretty pleasurable, too: "She talked in big impressionistic clouds and then gesticulated in their vicinity to disperse them" is almost as memorable an image as "[a] butterfly loops into Tom's face and Tom jumps as though dodging a flaming brick."

No matter how fine a sentence Lewis-Kraus can turn, he has a bigger fish to fry: his father. As a boy, he endured his father's flickering moods and his aura of secrecy. When he was nineteen, his father came out of the closet and embarked on a "sustained fantasy that a decade of complete and utter irresponsibility was the least the world owed him," his earlier sexual sacrifice evidently freeing him of future sacrifices as a father. Again and again, the son feels the sting of his father's disinterest. There is mention of fisticuffs. But the old man is a fascinating blend of narcissist and rabbi; no matter how grim a picture Lewis-Kraus paints, his father remains a beguiling, just-over-the-horizon character.

But before we really get to meet his father, Lewis-Kraus has some pilgrimaging to do. His reasons for embarking on these journeys are murky at first. He is having trouble jump-starting his writing career and senses that his productivity is linked to having a little structure in his life, a little direction, and a pilgrimage has that in spades. The Camino de Santiago offers restraint and daily purpose, though in his case it will be free of the question of belief. He will be patient in trying to articulate his motives and stay focused on the day in front of him — which is good news, for he is thinking all the time, his mind whirring like a hamster's wheel. You can almost smell the burn and you want him to just relax, but you also know that he is entertaining precisely because his hair is on fire. He and his walking partner, Tom, have a lively, minorly competitive relationship, and they have dubbed their walk the "bullshit caravan into nothingness." Lewis-Kraus may use a broad brush when it comes to exactly what he is doing, but he paints with a fine line when it comes to the landscapes they are moving through, the people they meet, the food, the weather, the blisters.

The Camino is cleansing, and he returns present and content to Berlin, where it all vanishes like smoke. Before long he is headed to Japan and the Shikoku circuit of eighty-eight temples. It is a bogglingly nasty pilgrimage, much through cold, pouring rain and alongside a motorway. Lewis-Kraus is a surprising soldier about it, folding away his fears and desponds before this "old and corporeal kind of shock therapy, a structure that is maintained and promoted to help inspire an embodied sense of gratitude and wonder at the variety and generosity of the world."

The final pilgrimage to Uman, where Hasidic men gather to celebrate Rosh Hashanah at the site of a pogrom in the Ukraine — "equal parts squalid Ukrainian village and blighted Soviet city" — is more brutish still, and exclusionary. Yet now, Lewis-Kraus is in the company of his father and his brother. You know they are going to zero in on the old guy, get some answers to long-standing questions, air grievances, squeeze him for regret. Despite his self-centeredness, the father is a disarming gentleman who radiates affection more than bitterness. Lewis-Kraus, his mind whirring and whirring, chews upon "the intolerable conflict to want your father to have been resolute and unapologetic and also need him to have not hurt you."

Lewis-Kraus is too much a skeptic to tie this story up with a bow, although he does manage to burrow down to some nubs. One is the importance of memory in turning a rite into a ritual, "an act of tradition that grounds you in the continuity of your life." Then there is the nexus between his experience as a pilgrim and his father's experience coming out, the meaningful difference between something commanded and something chosen, "the authority you invoke and the costs you're prepared to acknowledge." To acknowledge his own wants and desires find him on the "steadiness of a line, the line of what I did, the line that brings me here" — without regrets, on a pilgrimage.