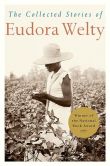 Eudora Welty's Collected Stories was published on this day in 1980, earning a National Book Award. In her introduction to the volume, Welty attributes her success to "the love and belief my family gave me," and to her editors. At the very beginning of Welty's career, editor John Woodburn, who was touring through Mississippi looking for young authors, stayed the night at Welty's house. His telegram announcing that Doubleday was bringing out Welty's first collection in 1941 also gave credit to Welty's family: "I knew as soon as I tasted your mother's waffles that it would turn out all right."

In her memoir One Writer's Beginnings, Welty says that every line of what she reads and writes she hears spoken aloud, a habit that also came from home:
I learned from the age of two or three that any room in our house, at any time of the day, was there to read in, or to be read to. [My mother] read to me in the big bedroom in the mornings, when we were in her rocker together, which ticked in rhythm as we rocked, as though we had a cricket accompanying the story. She'd read to me in the diningroom on winter afternoons in front of our coal fire, with our cuckoo clock ending the story with "Cuckoo," and at night when I'd got in my own bed.… Sometimes she read to me in the kitchen while she sat churning, and the churning sobbed along with any story.
---
Daybook is contributed by Steve King, who teaches in the English Department of Memorial University in St. John's, Newfoundland. His literary daybook began as a radio series syndicated nationally in Canada. He can be found online at todayinliterature.com.