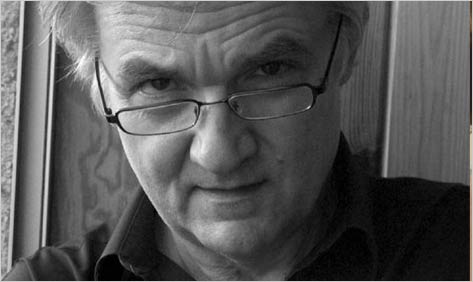 As first secretary of the Polish United Workers' Party from 1956-70, Władysław Gomułka served as the Kremlin's viceroy in Warsaw. Poland was still a police state when he died of cancer, in 1982. So when two bungling old tipplers in A Thousand Peaceful Cities set out to assassinate Gomułka in 1963, we know from the outset that the preposterous plot will come to naught. "We will be like the heroes of a novel that has come unglued," says Józef Trąba, who contrives and drives the quixotic fantasy of slaying the leader of Poland. It is Mr. Trąba—like a figure out of Dickens, he is always referred to as "Mr."—who provides the crazy glue that binds the quirks in Jerzy Pilch's novel. Despite the scheme to kill Gomułka, the book is less a political thriller than the story of a boy's coming-of-age in a goofy household in a broken homeland.
The narrator of A Thousand Peaceful Cities is, like its author, named Jerzy, and he is in his early teens in 1963 when the events he recounts occur. Jerzy's father is a retired postal administrator whom Mr. Trąba calls "Chief." He calls Jerzy's mother, whose principal pastime is collecting postcards sent her from a globe-trotting Lutheran clergyman, "Mrs. Chief." It is during one of his frequent visits with the Chief that Mr. Trąba, "a diminutive, darkish, and dreadfully skinny man," hatches his plans for tyrannicide. Feeling the urgency of his own mortality, Mr. Trąba is determined to perform one final, transcendent deed. It is impractical to journey to distant Beijing to eliminate Mao Zedong, and Nikita Khrushchev's position as Soviet leader has become so precarious he might well be purged before his assassins could make it to Moscow. So the target is Gomułka. Mr. Trąba and the Chief will set out in the evening from Wisła, their Protestant town in southern Poland, reaching Warsaw by morning. They will spend the day sightseeing, until the moment is ripe to separate Gomułka from his life. Jerzy will accompany them, carrying the trio's weapon of choice, a Chinese crossbow.
These details are scattered throughout Mr. Trąba's rambling, pixilated orations. A virtuoso of intoxication, he drinks, he claims, "in order to intensify existence." He is especially fond of intensifying existence with blackthorn vodka, and, under its influence, he bloviates about politics, religion, and love. He is a colorful figure, but Pilch does not sentimentalize the garrulous guzzler. A visit to his squalid apartment makes the narrator aware that, for all his bluster, Mr. Trąba is a sad and lonely lush. Nevertheless, young Jerzy is encouraged to swill with his elders, and three decades later he writes his own memoir (which is what constitutes this novel) with the tendentious grandiloquence of a seasoned alcoholic. Partial to bombastic epithets, Jerzy repeatedly refers to the married woman he develops a crush on as "the angel of my first love" and the server in a pastry shop as "the most beautiful waitress in the world." He has much in common with the Jerzy who narrates The Mighty Angel, the Jerzy Pilch novel that was published in Polish in 2000 and in English last year; a souse who has been in rehabilitation eighteen times, he collects the stories of fellow alcoholics.
A Thousand Peaceful Cities derives its title from what "the angel of my first love" sees when she gazes into Jerzy's green eyes. Published in Polish in 1997, it is Pilch's third novel to appear in English. The first, His Current Woman (1995; translation 2002), follows a married philanderer's madcap attempts to hide his mistress in the attic of an abattoir. Pilch's antic sensibility confirms that he is the compatriot of Witold Gombrowicz, the Polish maestro of absurdist pranks. But readers with a taste for the fermented Irish blarney of Flann O'Brien, Samuel Beckett, and John Kennedy Toole might also savor Pilch. Persons attempting to find a motive in this narrative will be perplexed. The assassination of Gomułka, which Mr. Trąba calmly discusses with a police investigator who advises him against it, is just a MacGuffin on which to hang digressions on Lutheran theology, Romantic poetry, stained glass windows, and feminine pulchritude. "This whole story constantly questions itself," the Chief, no fan of metafiction, observes. And he complains about "the grotesque nature of the entire undertaking." But it is the grotesquery of Pilch's buffoonery that makes A Thousand Peaceful Cities such an urbane pleasure.