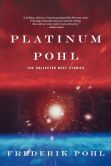 I've long admired the practice in Japan of designating worthy people as Living National Treasures. If such a tradition existed in the United States — the Presidential Medal of Freedom comes close but seems somewhat cautious and establishmentarian — I could immediately think of numerous nominees. Sonny Rollins, Thomas Pynchon, Neil Young (he's not really Canadian anymore), Freeman Dyson (ditto on his Britishness), Gene Deitch, Bernie Glassman…. We have a nation full of wonderful, accomplished geniuses deserving of the title.

Up until September 2, 2013, when he passed away at the venerable age of ninety-three, I would have automatically included the name of science fiction writer Frederik Pohl on any such list of Living National Treasures. Like some magnificent sequoia, he was both a vibrant, majestic, respirating presence and a token of a distant, almost unimaginable past. He was given a Grandmaster Award by the Science Fiction Writers of America twenty years ago, but that tribute hardly begins to do justice to his immense accomplishments.

Born on November 26, 1919, Pohl was only six years old when Hugo Gernsback inaugurated the era of modern science fiction with the founding of Amazing Stories in 1926. So Pohl was unable to participate in those early "Gernsback Years," to employ the term coined by historian E. F. Bleiler. But in October 1937, still only seventeen years old, he published his first professional work in those pages, a poem titled "Elegy to a Dead Satellite: Luna." From that moment until nearly his last day alive (his award-winning blog boasts an entry dated August 30, 2013), Pohl was a font of fabulous fiction and nonfiction. He famously and rigorously followed a practice of writing a substantial amount of words every single day, even while on the road, before allowing himself any other fun. That workmanlike habit would have been otiose had not so many of those words been brilliant and cannily assembled.

Pohl's essential memoir, The Way the Future Was, published in 1978, exuberantly covers the high points in his life and the SF scene up to the time of its publication, and is required reading. It is rumored with some degree of reliability that an updated manuscript of that memoir was finished prior to Pohl's death. The survey of his life here can only hint at his range of skills and deeds.

As a young man, often along with his lifetime friend and collaborator, C. M. Kornbluth (who died far too young at age thirty-four in 1958), and with many other pals such as Dirk Wylie, Pohl began writing unassuming but catchy stories for the pulps. Several of these, with titles like "Daughters of Eternity" and "Conspiracy on Callisto," are to be found in The Early Pohl, a collection from 1976. They show a fledgling writer swiftly mastering his craft, but offer few hints of the brilliance to come. And his many simultaneous contributions to fan publications of the day established a lifetime hobby and helped him hone his tools. It must also be mentioned in passing that the gleefully incestuous fandom of the period, mainly in an influential group dubbed the Futurians, provided Pohl with wives, writing partners, and manifesto-hurling firebrand co-conspirators galore.

Around this same time, the early 1940s, Pohl added another arrow to his professional quiver: editing. His record in this area of the SF field is almost as extensive and important as his fiction writing. From creating the concept of the "original story anthology" with the Star series, to helming Galaxy magazine, to skyrocketing the career of Samuel Delany by acquiring Delany's novel Dhalgren for Bantam Books, Pohl utilized his taste and savvy and marketplace perspicacity to advance the field nearly as much as the other canonical editors like John W. Campbell and Ed Ferman.

Then, in 1947, he established a literary agency that assumed a dominant role in the genre, repping such luminaries as Asimov, Simak, Leiber,and Wyndham.

What with editing, agenting and the small matter of military service during World War II, Pohl's fiction writing tapered off. But right around the corner was his personal Golden Age.

In 1952, Galaxy magazine published a serial entitled Gravy Planet, by Pohl and Kornbluth. The following year the novel would see book publication as The Space Merchants, the title under which it has since become famous, right down to its inclusion in 2012 in the Library of America volume American Science Fiction: Nine Classic Novels of the 1950s. This rousing, vigorous, action-packed, satirical extrapolation of the worst, most self-indulgent tendencies of American culture exemplified Pohl's strengths and approaches that would manifest in a series of novels with Kornbluth and in his own fiction of the 1950s and 1960s, long and short. He was hip, topical, transgressive, and lateral-thinking, a contrarian who hewed to no orthodoxy. He could be cynical but never nihilistic. At the same time, he exhibited compassion for freaks, outsiders, and the average citizen, always weighing in against abuses of power. His prose was clear as glass but distinctively inflected.

Four collections from this period showcase his unique voice. Tomorrow Times Seven, The Man Who Ate the World, Turn Left at Thursday, and The Abominable Earthman. They have been pruned and amalgamated, with later pieces, into Platinum Pohl: The Collected Best Stories, an essential addition to any serious SF collection.

The later 1960s saw Pohl collaborating on some capable space operas with Jack Williamson. But the arrival of the New Wave, with its radical Age of Aquarius agenda, did not catch Pohl off guard. Two stories from this period — "Day Million" and "The Gold at the Starbow's End," both of which lent their names to subsequent story collections — equalled in their revolutionary audacity anything being done by Moorcock, Ballard, Aldiss, and other New Wave icons. Perhaps Pohl's best novel of this era was The Age of the Pussyfoot, which used the classic trope of suspended animation to bring a contemporary man 500 years into an absurdist future.

Pohl did not flag in the 1970s, gifting the world with major novels such as JEM, whose focus on exoplanetary settlements seems prescient to our post–Hubble Telescope sensibilities, and Man Plus, which offered bioengineering of humanity as an unconventional mode to settling Mars. Nearing his sixties, Pohl showed no signs of slackening his intensity or losing his skills. This was proven with the arrival of Gateway in 1977, the first of his Heechee series. A fan favorite, this tale of mysterious alien spaceships and the humans who ride them would pick up many major awards and would offer Pohl a solid armature on which to hang several more books over the next three decades.

Pohl's novels continued to appear at a slower but reliable pace through the 1980s and 1990s, and into the fabled twenty-first century, which had loomed as a bright-edged strange attractor to all those young men and women of the 1930s. These books, while not as groundbreaking or impactful as his earlier work, continued to show professionalism and a keen intellect at work, a mind fascinated by science, human foibles, and popular culture in equal measures.

Pohl's final novel, barring any posthumous revelations, appeared in 2011 and bore the resonant title of All the Lives He Led. Its flair and urgent concerns and au courant stylings made it seem the work of a fresh-eyed journeyman, while still radiating some hard-earned wisdom.

Pohl's life and his career constituted a Rushmore-sized monument betokening one man's elegant and forceful dedication to a visionary mode of literature that was only a little older than himself. Not selfless by any means — Pohl had a good-sized ego, which resulted in some hard feelings here and there — this writer nonetheless invested all his energies to broaden the field immeasurably, supplying endless hours of pleasure to a huge number of readers. So long as he was with us, we could palpably feel and measure just how far science fiction had come since his birth. Now that he is gone, writers and readers who cherish the literature owe it to his memory to deploy the same amount of craft and love and joy that Pohl exhibited towards those same goals.
---

Paul Di Filippo's column The Speculator appears monthly in the Barnes & Noble Review. He is the author of several acclaimed novels and story collections, including Fractal Paisleys, Little Doors, Neutrino Drag, and Fuzzy Dice.