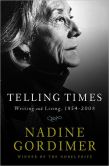 The South African writer Nadine Gordimer turns ninety today. Gordimer's reputation for political activism and for fiction that protests Crimes of Conscience — the title of one of her story collections — is confirmed in her Acceptance Speech for the 1991 Nobel Prize in Literature:
The writer is of service to humankind only insofar as the writer uses the word even against his or her own loyalties, trusts the state of being, as it is revealed, to hold somewhere in its complexity filaments of the cord of truth, able to be bound together, here and there, in art: trusts the state of being to yield somewhere fragmentary phrases of truth, which is the final word of words, never changed by our stumbling efforts to spell it out and write it down, never changed by lies, by semantic sophistry, by the dirtying of the word for the purposes of racism, sexism, prejudice, domination, the glorification of destruction, the curses and the praise-songs.
Telling Times (2010), a collection of Gordimer's essays spanning a half century, reflects the same social mission, but there are also more personal glimpses. In "Questions Journalists Don't Ask" she imagines being asked, "What was the best compliment you've ever been paid?":
When I was, years and years ago, on a camping trip on a farm, I was bitten by ticks that had brushed off the long grass I'd been walking through. When I complained of this, the old and very unattractive farmer said "If I was a tick, I'd also like to bite you.
---
Daybook is contributed by Steve King, who teaches in the English Department of Memorial University in St. John's, Newfoundland. His literary daybook began as a radio series syndicated nationally in Canada. He can be found online at todayinliterature.com.