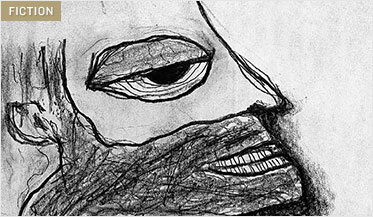 As the subtitle implies, Ablutions: Notes for a Novel is not a conventional work of fiction. The bar-back narrator remains nameless; there is little plot; the text is highly segmented; and the word "discuss," followed by a person's name, is the most frequently used transition from one section to the next. Although filled with this imperative and told in the present tense, Ablutions depicts a static world — a Los Angeles bar — where characters pass their time in a haze of drugs and alcohol. It is a testament to the author's skill that his stylistic experimentalism never stumbles, and although he is writing about a potentially clich?d subject — a how-low-can-you-go exploration of alcoholic subculture, a "classic tale of addiction" as the book-jacket text advertises — he does it with his own brand of class.

Patrick deWitt decided early in adulthood that fiction writing was his calling, but he never attended any writing classes and did not graduate from high school. He spent several years in California, drinking heavily, taking drugs, and scraping together a meager living with various short-term jobs. Eventually, he took a full-time job as a bartender and, like his narrator, worked at the bar for six years. He wrote Ablutions in the last of those years.

Before Ablutions, deWitt wrote a book titled Help Yourself, Help Yourself, which was published by the small, California-based independent press Teenage Teardrops, run by deWitt's older brother. They printed 500 copies, and the book sold out almost immediately. That book and Ablutions were advertised with "commercials," cartoon-illustrated videos shown on YouTube and the video-sharing web site Vimeo. People who have watched these leave comments such as "Sublime," and it is not difficult to understand the appeal. The commercial for Ablutions features a slide show of haunting black-and-white illustrations by the artist Carson Mell and a beautiful, ethereal musical soundtrack, created by deWitt's younger brother. But deWitt's words are what make the commercial unforgettable.

For all its unconventional style, and deWitt's seemingly haphazard progress toward his vocation, the success of Ablutions stems from deWitt's old-fashioned writerly exactitude. His sentences often depict brutal events, and their cumulative effect can be mind-numbingly horrific, but they are crafted with a rare degree of care and display a truly original voice. Just when you think that Ablutions has delved too deeply into the abyss, deWitt delivers a sentence that bolsters the reader by providing a moment of grace in a seemingly graceless world. A black man smiles, and "his teeth glow like a slivered moon tipped over on its spine." A man who can't afford to pay for drinks "holds his wallet like a sick bird." The bar's interior resembles a "sunken luxury liner of the early 1900s, mahogany and brass, black-burgundy leather coated in dust and ash." The author's sly sense of humor meanwhile lightens the text with amusing comparisons: "His thick hair is swept to the side, by turns boyish and Hitleresque," he writes of one of the bar's regulars.

Whether they are comic or tragic — or a bit of both — comparisons, metaphor, and simile are deWitt's strength. A crack addict who "falls platonically in love" with the narrator opens his mouth and the narrator finds himself looking inside "like a boy looking through a hole in a circus tent." When the narrator confronts a line of customers, their eyes are "shining wet like a raccoon's over a trash can." A drug-crazed crowd gathers "around a large pile of cocaine like wiggling piglets on a tit." When a more singularly depressing character emerges, deWitt still hits the right note: "you watch the child actor's hanging gut and visualize the hepatitis moving toward his liver and covering the inflamed organ like a velvet cloak."

Character description is central to Ablutions not just because of the repeated imperative to "discuss" individual personalities, but also because the people in the bar are the story. Events outside the bar do take place, including an eerie trip to a rodeo and the Grand Canyon, but the stories and squabbles of the customers make up the bulk of the text. Incidents that would be pivotal in a more conventional novel of dissolution take place on the periphery. The narrator's wife's departure, for example, only registers through a series of graphic sexual encounters beginning (and sometimes ending) in the bar. Life on the outside takes place out-of-view, as though the narrator is afraid to confront the light of day.

Ablutions provides a vivid, disturbing, and exquisitely crafted depiction of a specific dark world, but it is also about the more universal experience of being trapped. The regulars are all fabricators, their pasts "mired in the pall of alcoholic fiction" and their present abilities frozen by the lies they tell themselves and the addictions that paralyze them. But deWitt maintains a glimmer of hope of a brighter life for his characters. One character's "tales have luminosity about them and you lean in to catch each word," says the narrator. "You know he is a liar but there is something about the stories that seems plausible. He is, or was, open to greatness — there is potential greatness in his eyes — only he was never actually visited by the greatness and so he speaks of what his life would have been like if he had been." And so, while the novel creates a claustrophobic and inert world, it also creates the possibility of an alternative. The ephemeral but powerful prospect of redemption drives the text, creating an implicit crescendo of narrative drama; ultimately, it imbues the novel with an emotional force that goes far beyond the shallow-seeming depths in which it gloriously wallows.