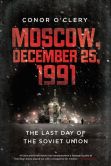 On December 25, 1991, a historical event on the par with the fall of the Austro-Hungarian Empire in 1918 or the collapse of the Ottoman Empire in 1923 occurs without a foreign war or bloody revolution as catalyst. Communist Yugoslavia disintegrated in flames, but the Soviet Union breaks up almost impassively as the world looks on in disbelief. The mighty Soviet army relinquishes an empire of subject republics without firing a shot.
The above is excerpted from Conor O'Clery's recent Moscow, December 25, 1991: The Last Day of the Soviet Union. When the USSR collapsed, O'Clery was in Moscow as foreign correspondent for The Irish Times, but his marriage to a Russian-Armenian gave him an inside perspective on recent events:
My father-in-law, Stanislav Suvorov, a shoemaker now in his eighties and still working in a Krasnoyarsk theater, suffered under the old system. He served five years in jail for a simple act of speculation — selling his car at a profit. He later prospered by providing handmade shoes for top party officials. My mother-in-law, Marietta, a party member, welcomed the free market that came with the transition from Gorbachev to Yeltsin with the comment, "At least now I don't have to humiliate myself to buy some cheese."… My cousin-in-law Ararat, a police officer, was shot dead by the mafia…. My sister-in-law Larisa, director of a music school, went unpaid for months in the post communist economic chaos and one day received, in lieu of salary, a cardboard box of men's socks.
---
Daybook is contributed by Steve King, who teaches in the English Department of Memorial University in St. John's, Newfoundland. His literary daybook began as a radio series syndicated nationally in Canada. He can be found online at todayinliterature.com.