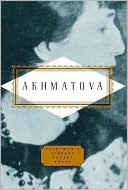 March 5: Anna Akhmatova died on this day in 1966. Akhmatova was sometimes able to take the long view of the legendary turmoil and tragedy in her life: "I experienced great fame, I experienced great distress and I have come to the conclusion that, in essentials, it is all the same." In 1962 to Robert Frost, visiting on President Kennedy's behalf, she seemed less detached:
I've had everything—poverty, prison lines, fear, poems remembered only by heart, and burnt poems. And humiliation and grief. And you don't know anything about this and wouldn't be able to understand it if I told you….
Much of Akhmatova's grief and humiliation came at the hands of Joseph Stalin, who died on this day in 1953. Her first husband was executed by the Bolsheviks, but it was Stalin who had killed her third husband in a Siberian prison camp, confined her son to prison for almost two decades, and banned her writing for decades. The censorship began in 1946 when Andrey Zhdanov used his inaugural speech as Stalin's cultural commissar to announce socialist realism as the new and only artistic path, and to condemn Akhmatova with the i-word:
Anna Akhmatova's subject-matter is thoroughly individualistic. The range of her poetry is pitifully limited—this is the poetry of a feral lady from the salons, moving between the boudoir and the prayer-stool. It is based on erotic motifs linked with motifs of mourning, melancholy, death, mysticism, and isolation. … She is half-nun, half whore, or rather both whore and nun, fornication and prayer being intermingled in her world….
The Zhdanov Doctrine and Zhdanov himself won the day; but his statue was torn down in 1990, just a few months after a statue of Akhmatova was put up in Moscow, to honor the centenary of her birth. The first Russian edition of "Requiem," regarded as Akhmatova's greatest poetic monument, was published to coincide with the centennial:
…I have learned how faces fall to bone,

how under the eyelids terror lurks,

how suffering inscribes on cheeks

the hard lines of its cuneiform texts,

how glossy black or ash-fair locks

turn overnight to tarnished silver,

how smiles fade on submissive lips,

and fear quavers in a dry titter…
---
Daybook is contributed by Steve King, who teaches in the English Department of Memorial University in St. John's, Newfoundland. His literary daybook began as a radio series syndicated nationally in Canada. He can be found online at todayinliterature.com.