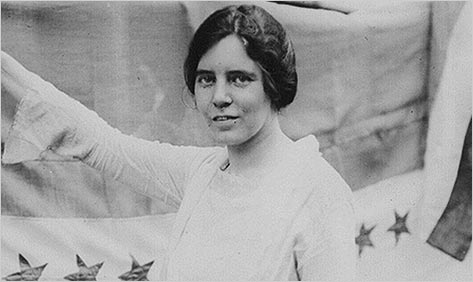 Susan B. Anthony is the figure most associated with women's suffrage in the popular imagination, but she and fellow crusaders like Elizabeth Cady Stanton and Lucy Stone died well before the 1920 ratification of the Nineteenth Amendment, and so the long battle to secure the vote for American women was left to a new generation of activists. Alice Paul was foremost among them, and while she's already been the subject of several biographies — and an HBO movie, 2004's Iron Jawed Angels — the new Alice Paul: Claiming Power, by J. D. Zahniser and the late Amelia R. Fry, vividly brings to life the magnitude of her accomplishments.
Spanning Paul's early years through the suffrage victory, the book benefits from oral historian Fry's extensive 1970s interviews with the by then elderly activist. Fry spent subsequent decades researching and writing, and when she fell ill, Zahniser stepped in to complete the project.
The book gets off to a slow start, exhaustively covering Paul's influential Quaker upbringing, her undergraduate education at Swarthmore College, and her travels to Europe to continue her studies, a practice then common for privileged young Americans. (Paul eventually completed a Ph.D. in economics.) Things pick up when she becomes involved with the Women's Social and Political Union, a British suffrage organization founded by Emmeline Pankhurst and her three daughters. Paul spent six months as an organizer for the WSPU, which was increasingly resorting to militant tactics. In November 1909, she disrupted a London banquet of government luminaries with shouts of "Votes for women!" while another activist shattered a window. During the resulting month-long prison term, after her request for political prisoner status was denied, Paul went on a hunger strike. The authorities responded by force-feeding her, a traumatic process that involved jamming a tube up her nostril and down her throat, and pouring a mixture of milk and eggs down the tube. Paul endured fifty-five excruciating forced feedings during her imprisonment, and she suffered adverse health effects for years thereafter.
Her multiple arrests and jail terms in Great Britain made headlines in her home country. Thus, upon her return to the United States in 1910, Paul immediately became a force in the American movement, dominated by the National American Woman Suffrage Association, which was led by Anna Howard Shaw and, later, Carrie Chapman Catt. Paul and Lucy Burns, another American who'd cut her teeth in the WSPU, initially worked with NAWSA, but they broke over tactical disagreements, and Paul and Burns founded a rival organization that eventually became the National Woman's Party. The more cautious — and ladylike — NAWSA favored a state-by-state approach to winning the vote; Paul believed a constitutional amendment to be the most effective strategy. She staged a brash, well-publicized suffrage procession, demanding an amendment, after Woodrow Wilson's March 1913 presidential inauguration — this at a time when, in the authors' words, many people "conflated [women] marching in the public streets with streetwalking."
Once the United States entered World War I, Catt tabled NAWSA activism and joined the war effort, hoping women would be "rewarded" with the vote in peacetime. Paul, on the other hand, kept up the pressure, picketing the White House (her group was the first ever to do so) with provocative banners — divisive even among her membership — pointing out the hypocrisy of Wilson's fighting for democracy abroad while denying it to women at home. Catt attacked Paul in the press, and Paul's own mother begged her to call off the protests. Before long, the NWP picketers were being arrested and imprisoned, and Paul, already weak and gaunt from her relentless work, once again declared a hunger strike and endured force-feeding.
Paul anticipated historical interest in her activities, carefully preserving suffrage-related records and correspondence but, alas, not her personal letters. Like many educated career women of her time, she never married or had children; she had deep attachments with several women over the years, but little is known about her sexuality or private life. Despite the gaps, the book breathes with her personality: her fearlessness, her tirelessness, her Quaker beliefs in social justice and service, and her talent for inspiring those around her. At a certain point suffrage became widely seen as an inevitability. Still, though the struggle was incredibly complex (the authors give only glancing attention to such factors as industrialization, the temperance movement, and racist fears about enfranchising black women), Zahniser and Fry argue convincingly that without Paul the passage of the Nineteenth Amendment "might have lingered in Congress for years."
Alice Paul was the only suffrage leader who lived long enough to witness the explosion of feminism in the 1960s and 1970s. This biography led me to look up an incident I'd recalled reading about in Daring to Be Bad, historian Alice Echols's history of the radical feminist movement of that period. As Echols tells it, a group of women's libbers, including movement pioneer Shulamith Firestone, planned a protest in 1969 to demonstrate that legal equality between the sexes was meaningless in a fundamentally unequal society. Firestone and a few others tracked down the elderly Paul and asked her to join them in publicly burning their voter registration cards at the protest. According to a witness, Paul "hit the ceiling." Years earlier, NAWSA president Shaw, defending her group's "steady" tactics, had begun a letter to Lucy Burns by writing, "You may think we are all a set of old fogies. . . " As the 1969 incident suggests, Paul herself was eventually seen as an old fogey, as a younger generation of women stormed the gates with more radical ideas. But it's impossible to read Alice Paul: Claiming Power without being awed by all she sacrificed and all she achieved.