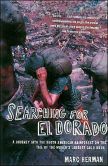 Those commanders and chieftains that shoot at honour and abundance shall find there more rich and beautiful cities, more temples adorned with golden images, more sepulchres filled with treasure, than either Cortes found in Mexico or Pizarro in Peru.

–from The Discovery of Guiana, by Sir Walter Raleigh, born on this day in 1552
Raleigh's glowing (but fanciful) reports of his explorations on the Orinoco River generated new interest in the old dream of a South American "El Dorado" — a dream that is far from dead today. Marc Herman's Searching for El Dorado, a "Journey into the South American Rainforest on the Tail of the World's Largest Gold Rush," begins with this unpromising sighting of a latter-day Raleigh at the Guyanese town of Kilometro Ochenta y Ocho (Kilometer 88), known only by its signpost:
Halfway through lunch an American walked out of the trees. I knew he was an American because of his accent, which was glum and slow. He looked bad: he was a sizeable man who had not bathed in some time. A pot belly strained a white T-shirt stained with mud; he wore an unkempt beard; and his hands were pink with abrasions. His shoes were foam shower sandals and insect bites and welts covered his feet.
---
Daybook is contributed by Steve King, who teaches in the English Department of Memorial University in St. John's, Newfoundland. His literary daybook began as a radio series syndicated nationally in Canada. He can be found online at todayinliterature.com.