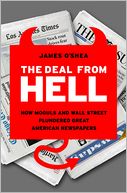 The first American newspaper was published in Boston on this day in 1690, though only three of the four book-sized pages that comprised Publick Occurrences Both Foreign and Domestick had copy, and the newspaper lasted only this one edition.

The opening editorial outlined the newspaper's aims: to help people "better understand the Circumstances of Public Affairs"; to do "something towards the Curing, or at least the Charming, of that Spirit of Lying, which prevails amongst us"; and to remind a forgetful public of "Memorable Occurrents of Divine Providence." The first issue reported on a local suicide, a bountiful harvest, recent illnesses, and a range of military troubles with the Indians and the French colony in Canada. No doubt it was the military news that alarmed the British colonial authorities in Boston. Finding "reflections of a very high nature" and "sundry doubtful and uncertain reports," they immediately banned Publick Occurrences and decreed that all future publishing enterprises would require a government license.

According to James O'Shea's The Deal from Hell (2011), the modern newspaper has been censored or shackled from within, by publishers "worrying as much about the first quarter as the First Amendment." O'Shea worked at both the Chicago Tribune and the Los Angeles Times; his book chronicles the disastrous merger of the Tribune and Times-Mirror companies in 2000, but it is also a wider analysis of, as his subtitle puts it, "How Moguls and Wall Street Plundered Great American Newspapers." While acknowledging that the problem has multiple causes, O'Shea attributes the plundering to the boardroom suits who began to measure newspaper worth "by different yardsticks, not just journalism prizes and civic pride but also profit, efficiency, shareholder value, cash flow…":
When you dig into the problems and peel off the anger, blame, lies, manipulation, and malice, the shortcomings and mistakes to which all parties plead guilty, the misfortune now plaguing newspapers traces to the severing of that bond of trust forged in pressrooms where editor and publisher alike got ink on their fingers. The next generation of leadership in Tribune Company and, with a few exceptions, in most of the rest of the industry experienced little common toil. Instead, mistrust, finger-pointing, and suspicion came to characterize the relationship between editors struggling to protect their newspapers and managers striving for the bottom line.
---
Daybook is contributed by Steve King, who teaches in the English Department of Memorial University in St. John's, Newfoundland. His literary daybook began as a radio series syndicated nationally in Canada. He can be found online at todayinliterature.com.