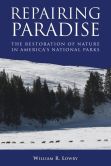 Two National Parks were created on this day, Grand Canyon (1919) and Grand Teton (1929); and Yellowstone, the world's first national park, was created 141 years ago this week (March 1, 1872). One early, influential advocate of parkland protection was the diplomat-scholar George Perkins Marsh, author of Man and Nature (1864), regarded as among the first works of the modern conservation movement. The congressional Act of Dedication that established Yellowstone refers to the establishment of "a public park or pleasuring ground for the benefit and enjoyment of the people"; Marsh's book, a study of "physical geography as modified by human action," emphasized that more was at stake than people pleasure:
It is desirable that some large and easily accessible region of American soil should remain, as far as possible, in its primitive condition, at once a museum for the instruction of the student, a garden for the recreation of the lover of nature, and an asylum where indigenous tree, and humble plant that loves the shade, and fish and fowl and four-footed beast, may dwell and perpetuate their kind, in the enjoyment of such imperfect protection as the laws of a people jealous of restraint can afford them.
The prelapsarian ring of that passage can be balanced by the postlapsarian ring to many recent assessments of the National Park Service. William R. Lowry's Repairing Paradise (2009) gives due credit to those who first established the parks and then laments the "significant deterioration of natural conditions at these magnificent places":
However destructive the policies that followed, the basic decision to set aside some of the nation's most precious lands and waters in a national park system showed remarkable foresight. One can argue whether statutory protection of lands in the mid-nineteenth century resulted from the efforts of prescient conservationists or tourist-seeking entrepreneurs. The fact is that federal policymakers…initiated a process that resulted in protection of a truly remarkable set of public spaces. Today, the national park system contains nearly 400 of the most scenic, historic and valued sites in the country. While these sites still entice and inspire millions of visitors each year…there's trouble in paradise.
On Lowry's list of troubles are over-visitation, pollution, commercial encroachment, "park barrel" politics, and protection policies that, however well intentioned, are either toothless or misguided.
---
Daybook is contributed by Steve King, who teaches in the English Department of Memorial University in St. John's, Newfoundland. His literary daybook began as a radio series syndicated nationally in Canada. He can be found online at todayinliterature.com.