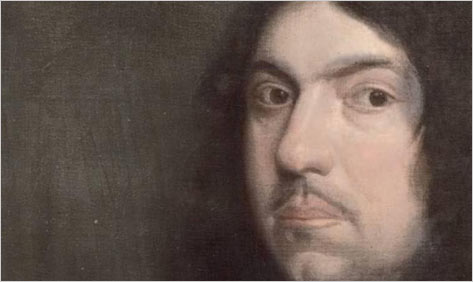 On the cover of the Penguin Classics edition of Andrew Marvell's poems,the reader is greeted with a detail from a period portrait: an extreme close-upof an extreme décolletage, accented with a blooming pink rose. It is an imagemeant to seduce, and it confirms the widespread idea of Marvell as a poet ofseduction. That idea is based, of course, on his most famous poem, theanthology piece "To His Coy Mistress," in which the speaker deploysevery rhetorical trope in the arsenal of 17th-century poetry to get the womanhe loves into bed:
Thy beauty shall no more be found;

Nor, in thy marble vault, shall sound

My echoing song; then worms shall try

That long-preserved virginity;

And your quaint honor turn to dust,

And into ashes all my lust.

The grave's a fine and private place,

But none, I think, do there embrace.
If you are used to thinking of Marvell as a poet of eroticsophistication, however, Andrew Marvell:The Chameleon, the new scholarly biography by Nigel Smith, willcome as a shock. Far from being a seducer, Marvell was "an outsiderslightly outcast," "a frequently frustrated and disappointed person"given to "outbursts of anger." When his enemies attacked him—and thepolitical-literary discourse of 17th-century England makes our own lookpositively gentle—they suggested that he was a eunuch, or that he had, in Smith'sdelicate paraphrase, suffered "genital damage in an unfortunate butobscure circumstance." Whether this had any basis in fact is, like manythings about Marvell's life, impossible to know for sure—it is not even certainwhether he was married—but Smith writes that the "most solid"evidence suggests that "Marvell liked being alone…he had few friends andgenerally did not trust people."
It is a grim picture; but trusting no one was probably a good policy inthe dangerous world of seventeenth-century English politics. Though he isremembered today primarily as a poet, in his lifetime and long afterwardsMarvell was best known as a political figure—"a Whig patriot, hero ofpolitical liberty and religious toleration." After the execution ofCharles I, in 1649, Marvell worked for the republican government of OliverCromwell, and his "Horatian Ode upon Cromwell's Return from Ireland"is considered perhaps the greatest political poem in English. But when themonarchy was restored under Charles II, in 1660, Marvell made his way adeptlyin the new regime, as well, serving as a Member of Parliament from 1661 untilhis death in 1678.
It was a time when poetry was a crucial part of politics anddiplomacy, as Smith vividly shows. When Marvell took part in an embassy toRussia, he caused an international incident when he wrote a verse addressingthe Tsar as "Illustrissime" (most illustrious) rather than "Serenissime"(most serene), the preferred adjective. Most of Smith's book, in fact, isdevoted to Marvell's political poetry and prose; and while few non-specialistreaders will have the appetite for the minute details of Marvell's career,Smith makes an excellent case for the enduring power of Marvell's occasionalpoems and satires. And if, at the end of the biography, Marvell remains aremote, unknowable figure, that is probably the way he would have wanted it. Ashe wrote in another masterpiece, "The Garden," "Two paradises 'twerein one/To live in paradise alone."
---
Footnotes:
The Early American Republic: A History in Documents (Oxford) is an innovative new anthology, edited by Reeve Huston, that goes beyond the Declaration of Independence, chronicling the first half-century of American life through letters, diaries, photos, cartoons, and other sources, by everyone from frontier wives to Indian chiefs.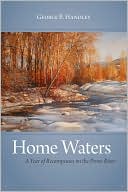 Few religions are as closely identified with a physical place as Mormonism with Utah. In Home Waters: A Year of Recompenses on the Provo River (University of Utah), George Handley writes about what it means to belong to a place—the Provo River watershed, which his ancestors settled—in a book that brings a Mormon perspective to questions of Native American history, ecology, open space, and "the mysteries of deep time."
Albert Einstein said, "I rarely think in words at all. A thought comes, and I may try to express it in words afterwards." Ironically, this is just one of 1,600 quotes from The Ultimate Quotable Einstein (Princeton), which collects the great man's wit and wisdom on everything from children to the cosmos.