The author of Some Assembly Required on books she's loved — and lied about.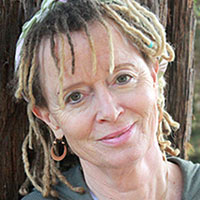 Confronting thorny questions of faith, addiction, art, and family, Anne Lamott's writing delivers profound insight laced with sly humor. Two decades after sharing how she survived and thrived during her son's infancy in the pages of Operating Instructions, Lamott revisits the challenges of parenthood in the story of her grandson's birth and early childhood, Some Assembly Required. This week she shares "three cherished novels" with us — and one which has inspired some moments of deception.
---
By George Eliot
"George Eliot's Middlemarch is probably my favorite novel of all time. Although it is Victorian, it reads like an elegant, epic modern novel, with a wonderfully intelligent and idealistic woman named Dorothea Brooke and a large cast of tragic and hilarious characters. While its themes are serious — morality, loss, and self-delusion — it is one of the most readable books of all time. If you read the first ten pages, you will be completely entranced. It's a perfect book for a long winter or a book club."
---
By Leo Tolstoy
"Anna Karenina is so brilliant and such a page-turner that it kind of makes you crazy. There's no way to capture its greatness in a few sentences. Each of the main characters — Anna, Vronsky, Levin — are impeccable creations, as is Tolstoy's depiction of aristocratic Russia. This book is pure magic. I hear that War and Peace is as great or even greater, but although I always tell people that I've read it ('in college'), the truth is that I haven't. For my next list, I will tell you a few more books that I pretend to have read — in college."
---
By Evan S. Connell
"I'm going to name Evan S. Connell's Mrs. Bridge as my third favorite book, because a) it truly is a wonderful and devastating and sometimes very funny novel about a well-to-do family in Kansas City. When I was a young writer, it inspired my belief that if you wrote as beautifully and as carefully as possible about ordinary people, you could create fabulous art, and you could do this using new structures and forms, in this case vignettes. And b) he was one of my father's best friends from the late 1950s on. When I was a five-year-old girl and he would visit, I was so shy that I'd sit under our dining room table and gaze up at him and dream about marrying him someday. He was shy also, and so handsome.
"Then it turned out that he was a brilliant, painstaking writer — Mr. Bridge is equally great, but darker, and Son of the Morning Star, about Custer at Little Big Horn, is a great American work of historical non-fiction. It reads like a novel and will blow your mind. You will owe me forever.
"Evan and I never did get married, but you never get over your first love, and we are still dear friends."