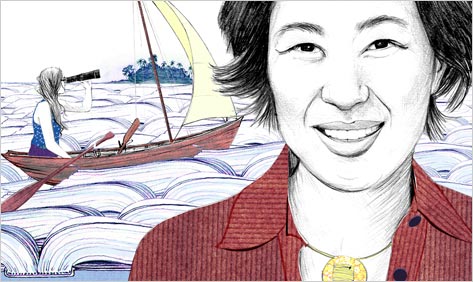 Dear Reader,
We're terrifically excited about our Spring 2013 Discover Great New Writers list, 14 titles carefully chosen from hundreds of submissions. By turns exhilarating and heartbreaking, lyrical and thought-provoking, these are the amazing true stories, the unforgettable memoirs laced with unexpected humor, and the dazzling, ambitious novels that the Discover selection committee members can't stop talking about.
The Spring '13 season begins on 2/5, and while some of these titles are available now, the rest are landing in February and early March.
Between Man and Beast, Monte Reel
The Big Truck That Went By, Jonathan M. Katz
The Day My Brain Exploded, Ashok Rajamani
The Death of Bees, Lisa O'Donnell
Eighty Days: Nellie Bly and Elizabeth Bisland's History-Making Race Around the World, Matthew Goodman
Falling to Earth, Kate Southwood
Fellow Mortals, Dennis Mahoney
Fresh Off the Boat, Eddie Huang
Ghana Must Go, Taiye Selasi
A Teaspoon of Earth and Sea, Dina Nayeri
The Twelve Tribes of Hattie, Ayana Mathis
Wave, Sonali Deraniyagala
Wise Men, Stuart Nadler
With or Without You, Domenica Ruta
We've so much more to say about all of these tremendous books, and will have more original Spring '13 Discover Great New Writers content coming to the blog over the next few weeks — along with 2012 Discover Awards news and conversations with alums David Abrams & Alex Gilvarry, Wiley Cash, and Emma Straub & Stuart Nadler.
Cheers, Miwa
---

Miwa Messer is the Director of the Barnes & Noble Discover Great New Writers program, which was established in 1990 to highlight works of exceptional literary quality that might otherwise be overlooked in a crowded book marketplace. Titles chosen for the program are handpicked by a select group of our booksellers four times a year. Click here for submission guidelines.