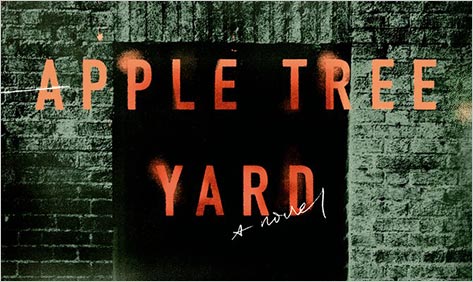 Like a fishing line expertly cast, the prologue to Louise Doughty's novel, Apple Tree Yard, hooks the reader with lethal, feather-light precision. "The moment builds; it swells and builds," the narrator begins, "the moment when I realize we have lost. The young barrister, Ms. Bonnard, is on her feet in front of me…Her gaze is cool, her voice light. Her black robes look chic rather than sinister." A woman and her lover are in the dock at London's Old Bailey and a flinty barrister is poised to strike a fatal blow with a few innocent words. "You are familiar, aren't you," says Ms. Bonnard in her satin, sinuous voice, "with a small back alleyway called Apple Tree Yard?….There is not a sound from the court, then someone from the benches in front of me shuffles his feet." Lulled by the intimate tone and graceful rhythm of Doughty's sentences, we hear the silence, sense the shock and are impatient to see what all of this means.
The defendant and narrator is Yvonne Carmichael, a fifty-two year old scientist, wife and mother whose life swerves off course on a "…cold March day in the Chapel of St. Mary Undercroft in the Palace of Westminster…" During a break in her presentation to a Parliamentary committee on cloning technology, Yvonne has a thrilling sexual encounter with a stranger in the Crypt Chapel. This sounds silly; the clichéd setup for a soft-core romance. In Doughty's hands, however, the curiously muted scene vibrates with tension and menace. As an affair develops, albeit one limited to urgent sex, the besotted yet perceptive scientist observes her lover. "It is a question to which I never get the same answer twice," Yvonne notices when she asks him what he does. Something to do with government security, with secrecy. Gradually, in subtle shades, the portrait of a male narcissist and liar is wonderfully drawn. The portrait of Yvonne's marriage is equally deft. And the danger ahead seems obvious, but it is not. In the first of many exquisitely choreographed twists, Yvonne suddenly becomes the victim of a brutal crime that both deepens and darkens her relationship with the lover she knows intimately though hardly at all.
The giddy hours leading up to novel's most shocking and violent scene and the stunned, stumbling aftermath are evoked with cinematic immediacy. Afterwards, normal life resumes; Yvonne ends the affair, suffers heartbreak, welcomes home her troubled son. Menace returns, however, and violence, this time occurring out of sight. When a battered body is discovered and Yvonne is arrested, she enters a claustrophobic parallel reality. "[T]he court and dock awaiting me are right above my cell, just up a short flight of concrete steps," she realizes, "…the world of wigs directly above the humid underworld to which I now belong."
At the novel's core is a criminal trial that unfolds in scenes so skillfully paced and minutely observed that the very pages seem to exude the stale air of "Courtroom Number Eight." And each player in the drama, from judge to anonymous jury member, is captured in a mannerism, a glance. The defense barrister Ms. Bonnard, for example, nonchalantly eviscerates a police officer on the stand. "That isn't the real reason, is it, DS Johns?' Ms. Bonnard is looking down as she makes this incendiary statement and… I cannot help but admire her style," Yvonne admits, "the way she lobs that contradiction over in such a casual manner, as if she is so confident of her ground she hardly needs to bother to put DS Johns in her place." Later, when the opposing barrister rises, Yvonne notices that, "She glanced at her feet briefly before she began, to indicate, I guessed, her humility before the truth she was about to outline for the court. It wasn't her story, her downward glance seemed to say, oh, no, it was what really happened."
What really happens is betrayal or, rather, a series of betrayals, each one exposed with such flawless timing that the revelation seems to hover for a moment over the hushed courtroom before hitting home. In such moments, Yvonne learns how little she knows of her lover's world and, more fatally, of his heart. "Even the most altruistic or self-sacrificing love has its limits," her smug young barrister cautions at the outset, never guessing how relevant his flippant observation will be. The concluding shock comes on the final page as Doughty, with a single sentence, once again causes reality to flicker and change shape before our eyes.