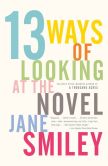 There are five things that societies do: They reproduce; they produce food; they organize themselves in terms of law; they organize themselves in terms of belief; and they make art. Four of them are about conformity — and in these, everything would go more smoothly if people just would shut up and do what they're told.

But in art it doesn't work that way. Art doesn't exist if you just do what you're told. It only exists as an exercise of individual taste and freedom. So in every society, the artists will be the ones who set themselves up as contrary to whatever the society expects.
–Jane Smiley, born on this day in 1949; the comments above, from a 2007 interview in Progressive magazine, are in response to the interviewer's observation that Smiley's Thirteen Ways of Looking at the Novel expresses her belief that "all novels are liberal, and all novels are political"
---
Daybook is contributed by Steve King, who teaches in the English Department of Memorial University in St. John's, Newfoundland. His literary daybook began as a radio series syndicated nationally in Canada. He can be found online at todayinliterature.com.