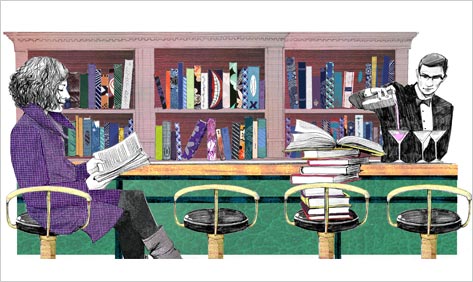 "As formerly boho environs of Brooklyn become unattainable due to creeping Manhattanization and seven-figure real estate prices, creative professionals of child-rearing age — the type of alt-culture-allegiant urbanites who once considered themselves too cool to ever leave the city — are starting to ponder the unthinkable: a move to the suburbs. But only if they can bring a piece of the borough with them."—The New York Times
"… And, best of all, this home you're looking at today is just down the street from the local public school, Djuna Barnes Elementary, ranked in the top 1% of the nation's schools in ukulele-playing, pickle-making, and mustache-growing. The fourth-graders just finished an amazing three-month strike that finally persuaded the rest of the students — who run the school on their own as an entirely democratic enterprise — to switch to organic toilet paper in the co-ed outdoor bathrooms. They really learned a lesson in civic engagement, although we're hoping the missed time in class doesn't cause them to fall too far behind — they each need to form at least two indie folk bands before the end of the year in order to graduate."
"… Yes, absolutely, being close to the city is a must for the folks up here. And with the completely renovated train system, the commute is better than ever. Every train is now a hybrid, and made mostly from corn. You just hop on board, start pedaling, and you're back in Brooklyn in no time. Kettle-cooked taro chips and natural licorice soda are available in the dining car, and there's even a yoga class that takes up the last four rows of seats, every morning on the 8:07.
"… Stores? Certainly. We have everything you'd expect in a new-traditional suburb: six daily organic markets, each focusing on one specific family of vegetables — the brassica market is my favorite — nine independent movie houses, including three that constructed their own screens out of hemp, and twenty-six different optometry practices, so that it's easy to fulfill the town mandate that everyone wear glasses, whether they need them or not. Is there a bank? No, but we do have a money lending cooperative being built in the back of the custom-furniture studio, and I think the craft plumber down the block might have an old ATM in his basement, as part of an art exhibit. What's a craft plumber? He builds water pipes out of recycled bike parts.
"…Totally fair question, because how can you be sure that your neighborhood is safe when the police force is entirely made up of volunteers? But we rely very heavily on the neighborhood watch, which is a band of emancipated teenagers who live in the street and make their own clothing out of the scraps they find in people's compost bins. And their restaurant is amazing — you must try it, especially on Tuesdays, when they serve food. (And when I say 'must,' I mean it — they take away your messenger bag if you don't.) The restaurant is on Main Street, overlooking what used to be the highway but is now hosting a temporary installation called Car Park: A Story With Sideburns.
"… No, their reading scores are actually among the best in the state. We think it has a lot to do with the tattoo requirement. Every child is exposed to so many words each day, just on the bodies of their friends. And, you know, it's all vegetable ink. Completely organic. And no antibiotics if they get an infection. We don't believe in that. Yes, of course there's a hospital. It's staffed by only our best origami crafters and graffiti artists. It's also where we set off the all-natural fireworks on July 4th. They're made out of soap, so when you wake up sometime in the afternoon on July 5th, the streets are suddenly clean again. It's a wonderful day.
"… Gas stations? No, we haven't had the need. But there's an acupuncture stand on every corner. Look, it has been great showing you this property, especially the part that's made entirely of foam and deer antlers, but I really have to cut this short — I'm already late for my shift at the school. I'm teaching the kindergartners a class in memoir writing, and helping to fit them for nose rings. If you want to buy the place, just send me some organic beads as a deposit and I'll start the paperwork."
Read more of Jeremy Blachman's work at http://jeremyblachman.com or tiny bits of it on Twitter @jeremyblachman