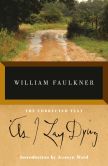 William Faulkner died on this day in 1962. William Styron was one of the few friends invited to the small, family funeral in Oxford, Mississippi. His reflective description of the event was published two weeks later as a four-page photo-essay in Life magazine, titled "As He Lay Dead, a Bitter Grief":
I am stricken by the realization that Faulkner is really gone. And I am deep in memory, as if summoned there by a trumpet blast. Dilsey and Benjy and Luster and all the Compsons, Hightower and Byron Bunch and Flem Snopes and the gentle Laura Grove — all of these people and a score of others come swarming back comically and villainously and tragically in my mind with a kind of mnemonic sense of utter reality, along with the tumultuous landscape and the fierce and tender weather, and the whole maddened, miraculous vision of life wrested, as all art is wrested, out of nothingness.
Much of Styron's article observes the real Oxford rather than fictional Yoknapatawpha, the overwhelming heat that day, the twenty-foot Confederate flag in the ad for Rebel Cosmetology College, the half-gallon of Jim Crow at lunch, the neighbor who says that "when they put Bill Faulkner in the ground it just won't be right unless he has that tweed jacket on." Styron's last paragraph returns to literature:
At the end of The Wild Palms, an early novel of Faulkner's, the condemned hero, speculating upon the possibility of a choice between nothing and grief, says that he will choose grief. And certainly even grief must be better than nothing. As for the sorrow and loss one feels today in this hot dry field, perhaps it needs only to be expressed in Faulkner's own words, in the young poem he called "My Epitaph":

If there be grief, then let it be but rain,

And this but silver grief for grieving's sake,

If these green woods be dreaming here to wake

Within my heart, if I should rouse again.

But I shall sleep, for where is any death

While in these blue hills slumbrous overhead

I'm rooted like a tree? Though I be dead,

This earth that holds me fast will find me breath.
---
Daybook is contributed by Steve King, who teaches in the English Department of Memorial University in St. John's, Newfoundland. His literary daybook began as a radio series syndicated nationally in Canada. He can be found online at todayinliterature.com.