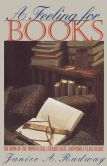 On this day in 1926, the Book-of-the-Month Club mailed out their first selection — the novel Lolly Willowes, by British author Sylvia Townsend Warner. The BOMC was the bright idea of Harry Scherman, an advertising copywriter who had already mail-order marketed his Little Leather Library — "30 Great Books For $2.98," with a free box of chocolates thrown in. Scherman's new venture was an instant and influential success: from 5,000 to 50,000 subscribers in the first year, with half a million subscribers twenty years later.

In A Feeling for Books: The Book-of-the-Month Club, Literary Taste, and Middle Class Desire, Janice Radway notes that the popularity of the BOMC had something to do with middle-class posing and prettifying — for example, as per this advice from a 1920s article in House Beautiful magazine: "Blue pottery vases and bowls for flowers are most attractive, and certain blue books, placed not too far away, will repeat and emphasize color. Among the lighter blues are Beebe's Jungle Peace and W. H. Hudson's Far Away and Long Ago…."

But the book-gathering impulse is linked not to décor but fundamental design, says Alberto Manguel in The Library at Night:
The suspicion that we and the world are made in the image of something wonderfully and chaotically coherent far beyond our grasp, of which we are also part; the hope that our exploded cosmos and we, its stardust, have an ineffable meaning and method; the delight in retelling the old metaphor of the world as a book we read and in which we too are read; the conceit that what we can know of reality is an imagination made of language — all this finds its material manifestation in that self-portrait we call a library.
---
Daybook is contributed by Steve King, who teaches in the English Department of Memorial University in St. John's, Newfoundland. His literary daybook began as a radio series syndicated nationally in Canada. He can be found online at todayinliterature.com.